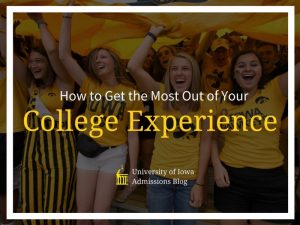 The University of Iowa is a welcoming and inspiring place where you can focus on your studies and engage in a multitude of opportunities beyond the classroom. As a May 2015 graduate from the University of Iowa, I valued my time in the classroom, but I also learned that it is important to take time to involve yourself in the Iowa City community. Here are some tips and tricks!
Join Student Organizations!

I cannot stress the importance of getting involved. There are over 500 different student organizations at the University of Iowa, and this number continues to grow. In addition to the opportunities already available, students have the ability to create their own student organizations. To see student organizations that you can join as a member of the Hawkeye family, visit http://uiowa.orgsync.com/. Future Hawkeyes will have opportunities to learn more about individual student organizations at their summer orientation program, the student organization fair at On Iowa!, by informational emails sent to their University of Iowa email address, and throughout the semester by word of mouth.

Give Back!

Not only can students get involved in student organizations, but many of these organizations allow Hawkeyes to volunteer within the Iowa City community. There are additional opportunities to discover community service by attending Volunteer Fairs hosted on campus. To see how you can volunteer at the University of Iowa, check out the following resources:
Become a Researcher!

At the University of Iowa, 27% of undergraduate students participate in research. The University of Iowa is a Tier 1 research institution, meaning that all professors at Iowa, in all departments, are conducting research and developing new discoveries in their respective fields. Because all professors are engaging in research, students can speak with their individual professors to see how they can get involved in research. Discover more about research at Iowa here: https://uiowa.edu/icru/.

Gain experience for your Résumé!

All of the activities listed above can be used to enhance your college résumé, but be sure to also check out the resources made available by the Pomerantz Career Center. The Pomerantz Career Center hosts opportunities for résumé workshops and mock interviews, and Career Advisors will assist you in writing a cover letter. Most importantly, they provide resources that help students find jobs. The Pomerantz Career Center hosts career fairs that hundreds of employers from across the nation attend with the intention of hiring our Hawkeyes! This is a great opportunity for students who are looking for jobs while they are current students at Iowa, for future internship experiences, and full-time employment. Students can look for jobs on campus, within the community, and across the nation by using Hireahawk.com, a resource managed by our career center. To learn more, visit the Pomerantz Career Center's website at: https://careers.uiowa.edu/.
You may be thinking that college graduation is far away, but your time at Iowa will fly by, so be sure expand your horizons, try new things, and develop your passions!
If you would like more information, do not hesitate to contact the Office of Admissions at 319-335-1566 to ask your specific questions! Go Hawks!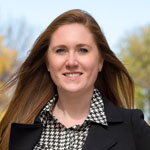 Erin Monroe
Admission Counselor
The University of Iowa
Office of Admissions