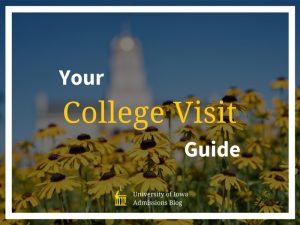 Visiting a college campus is one of the most important and helpful things a student can do in their process to select the college that is the best fit. Here are a few tips and tricks to consider to make sure you will get the most out of your visit to campus at the University of Iowa and ways to make it memorable.
Before you visit:

Reflect on what are the most important factors a school needs to have for you to attend.
Prepare a list of questions.
Research Iowa City and see if there are other things you would like to do outside of your scheduled visit.
Begin to think about what you might like to study in college. What is your major? At Iowa we offer over 200 areas of study, you can learn more here.

On your visit:

Make the most of your campus tour! Be sure to ask your tour guides about their student experience, see how they are involved on campus, ask for advice about what they wish they had known before coming to college, etc.
Get all of your questions answered! Make sure you come prepared with some questions about your college "deal-breakers"- what do you want to make sure the University of Iowa offers to ensure you the best possible college experience. Talk to your tour guides, speak with Admissions staff, ask questions during the presentation! Remember, this campus visit is about you- the people who you come in contact with during your visit are there to help you determine if Iowa is the right fit for you, so if there is something you are dying to know more about, don't be afraid to speak up!
While on campus, I would encourage you to also check out our eclectic Downtown Iowa City with over 70+ restaurants and unique boutiques to shop, conveniently located directly across the street from the Pentacrest. Begin to explore the city you might call home for the next four years! There are multiple coffee shops that students make their own over their time at Iowa and are popular study spots! Be sure to check out Java House on Washington Street for a taste of local flavor and a glimpse of what could be a part of your future study routine.
If you are looking for unique ways to supplement your campus visit and would like more ways to learn about student life and what it is like to live in Iowa City, here are some tips:
Attend an athletic event! Tickets to men's and women's basketball games, wrestling meets, swimming and many more are available here.
Visit the FREE museums on campus!
See what student events are happening on campus (everything from campus speakers, to author readings at Prairie Lights, or arts events).
Watch an artistic performance at Hancher Auditorium.
Go hiking at Squire Point or take in some awesome views at the Coralville Lake Reservoir.
Visiting a college campus is an exciting time, so don't forget to have fun and take lots of pictures. I recommend also taking a minute or two after your visit to write down how the campus made you feel. This will help when you are comparing colleges after you have gone on several college visits.
If you have questions regarding your campus visit, or would like to schedule one, please do not hesitate to contact the Office of Admissions at 319-335-1566.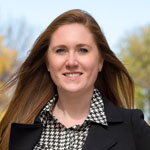 Erin Monroe
Admission Counselor
The University of Iowa
Office of Admissions