Tuesday, January 3rd, 2017
Hey Hawkeyes!
I hope everyone survived finals week and has had a good break so far! For whatever reason the week before finals week is called dead week and I'm not entirely sure why. Although this year was actually the closest I've come to dead week; I had two assignments due and that was pretty much it. I've really enjoyed being able to have the opportunity to relax a little before finals and graduation. However, the last couple weeks of the semester also included a lot of my "lasts".
Last college Thanksgiving break

Last football game as a student in Kinnick stadium(even if I did sit with my dad in the regular section-first Hawkeye game with my dad!)
Last meeting with my advisor
Last day of class
Last homework assignments
Last lunches/dinners with friends that have been part of my weekly schedule
Last class as a TA
Last finals

Last walk across campus
Even with all these lasts, I'm so excited for all the firsts that are in my future.
First adult job
First adult apartment
First car
And all the other firsts that I have yet to discover. I'm so excited for the real world and all the opportunities to pursue. In one of my last classes, the professor took the time to give us life advice. She basically said to take every opportunity to try new things and have new experiences.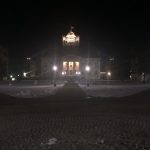 We still have so much room to grow into the person we want to be so keep challenging what you think about the world and never stop learning. One of the guys that has come to talk to one of my professional seminars a few times has shared the concept of lifelong learning. If you aren't constantly learning, you're not really living. I'm ready for lifelong learning and the many adventures yet to come!