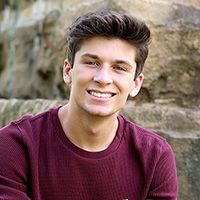 Hey! I'm Reed and I'm a first-year Cinema major from Cresson, PA. I'm super excited for my first year at Iowa and have been ever since I committed in the Spring. I fell in love with Iowa City and the facilities located on campus (especially the Rec Center), which made my decision to attend extremely easy. I'm also planning on earning a minor in Astronomy. My dream job would combine my love of movies and film with my interest in the universe.
I'm a really active person, both physically and socially. I'm planning on joining a lot of clubs (and maybe even starting my own) as well as spending some time on the Rock Climbing wall (I mean, you can't go to a University with a rock wall and just NOT use it). I want to make sure that I take advantage of my time at Iowa and do everything I can to grow in these next four years as a Hawkeye.
I'm somebody with interests ranging from sports to movies to Dungeons and Dragons and everything in between, so if you see me on campus, feel free to say hi! I'm sure there's an overlap somewhere between my interests and yours!