Going into Kinnick on Saturday for my last game of the season, I was sure I was going to be watching a losing game. Minnesota has been historically bad, but this season they've been UNBELIEVABLE. Like, 9-0 including a win over Penn State? We were going to lose. I was sure of it. 
And then? We won.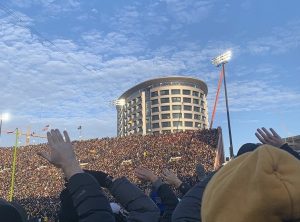 I mean, barely. But a win is a win, and we kept the Pig home and beat a team that Penn State couldn't even win against (Minnesota beats Penn State, we beat Minnesota, does that mean we beat Penn State?). Our offense was finally able to come together and our defense was absolutely solid (as always).
Actually watching the game, I realized that Minnesota wasn't even really that good. They started almost every drive with a long pass, something that the Iowa defense eventually figured out in the second half, and their quarterback was sacked at least four times.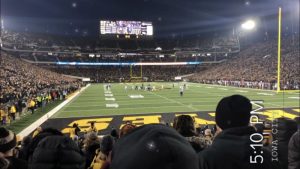 And the fact that their kicker missed not only an extra point but a field goal. Four points that could've tied the game. Keith Duncan would never.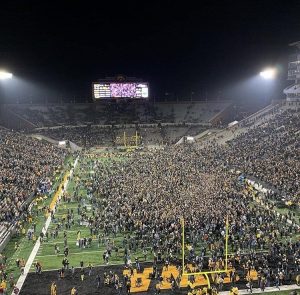 After we won, there was that ever-so iconic storm of the field, in which I tripped over someone and fell, and got pushed by a team of state troopers who were shoving their way through the crowd. Worth it? Absolutely.