Hey! Welcome to my page. Thanks for checking in 🙂
My name is Cori and I am a freshman at the U of Iowa. I feel extremely blessed to be able to attend this college and hope to pursue a career in social media marketing!
*A little disclaimer before I open up and let you in on my thoughts and feelings about my time here at Iowa, I wanted to address the obvious. Yes, we are in the middle of a global pandemic. Yes, it is affecting millions of students across the globe as they start college or some other form of education. Yes, it is extremely unfortunate. But it is out of my control, and I am most definitely not going to let it take my college experience from me. I am so happy to be on campus, learning what it is like to be on your own, so I am going to use every chance I get to enhance this opportunity I have been blessed to have. So from now on, this is a COVID free blog. I won't mention it, and nothing I say will make you reflect on this unfortunate event happening around the world.*
I've been on campus for about a week now and I have been overwhelmed with the amount of support the Hawkeye community has provided for the incoming freshman. I have been long awaiting the day I could step foot on campus to officially call it home. Being able to experience the freedoms of college is such a freeing feeling after attending a small Catholic high school. I feel like I have been living every day looking forward to this moment. Every high school test, quiz, football game, and school dance that passed by brought me one day closer to being a Hawkeye! One cannot explain how amazing it feels to be able to wipe the slate clean and start fresh.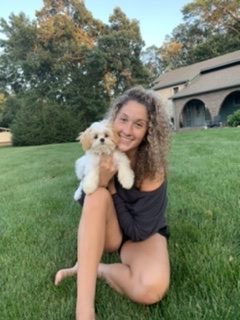 If you are going to continue to follow my blog, I want you to know a little about me first! Like I said earlier my name is Cori and I am from the Quad Cities. I have grown up under the roof of my two parents, with my older brother Cole, 21, who is currently a junior at Iowa State studying mechanical engineering, and my little sister Camryn, 16, who is a sophomore at a local Catholic high school in my home town. I also have two dogs, Bentley who is 9, and Callie who is 4 months old!
Growing up I have discovered many passions, let go of a few, and found the activities that bring me pure happiness and bliss. I hold working out, beach volleyball, traveling, and exploring the outdoors close to my heart. I was introduced to lifting at a young age and it is still part of my everyday routine. Beach volleyball and travel go hand in hand. I played competitive volleyball for the majority of my life and recently transferred to travel beach volleyball two years ago. That transition brought me to places such as California to compete right off of the Santa Monica Pier. That sparked my love for travel and now I am yearning to study abroad and experience different cultures during my time at Iowa! My brother is a huge outdoorsman, so he has sparked my interest in hiking, kayaking, and even outdoor rock climbing. I am signed up for a rock climbing class at Iowa so I will keep you updated on that as well! 🙂
I am finding ways to continue to fuel these passions of mine while at Iowa, but I'm also searching to expand to find new avenues as well.  Iowa has limitless opportunities to stay involved and stay active. I am extremely excited to bring you along this journey with me as I grow as a person to learn more about myself while I study to achieve my academic goals. I hope that if nothing else, my words will bring a little light to your day.
I love and appreciate you. Thank you for coming on this journey with me.
Cori
"Life is not about expecting, hoping, and wishing. It's about doing, dreaming, and becoming." -Mike Dooley