The University of Iowa has a wonderful Honors Program and we're here to tell you all about why you'd want to join. Program acceptance comes with benefits, challenges, and opportunities. It's not going to be easy, but it will be worth it!
So, why is our Honors Program a great option for high-ability students? The short answer:
The program provides both structure and flexibility in academics.
We are a research 1 institution, which means students can pursue research in any field.
We're a large school that provides scope for all sorts of interests, so you can make friends in areas ranging from arts to clubs and sports.
Students are encouraged to develop the skills they will need to pursue their passions both during their time here and after graduation.
Attend honors seminars and classes and receive specialized support from Honors Program staff.
Make friends with common interests – intellectual pursuits and fun alike.
We mentioned that there are opportunities that come with going through the Honors Program. Here are just a handful of examples of what we mean!
For our health sciences students: volunteering, job shadowing, or doing research with faculty members in our hospitals and clinics.
The Center for Computer-Aided Design has undergraduates from disciplines like engineering, human physiology, and computer sciences involved in cutting-edge research alongside grad students and faculty.
Business students can hone their skills in the Hawkinson Institute of Business Finance, the Vaughan Institute of Risk Management & Insurance, and the Iowa Electronic Markets.
Students in the arts and humanities benefit from Iowa City being the cultural capitol of the state – we're the only UNESCO City of Literature in North America and the home to the Iowa Writer's Workshop, plus we have a thriving arts campus with 3 new high-quality arts and music buildings opening in 2016!
Now that we've piqued your interest here's how you can join Iowa's Honors Program:
Earn a 3.8 cumulative GPA in high school (weighted is acceptable)
Receive a minimum of a 30 ACT (1330 SAT – no super-scoring!)
Fall just short of those requirements? You can apply through the Selective Admission process. No application necessary for students who meet Honors Program admission standards.
If you're still not sold, don't hesitate to contact the Office of Admissions or the Honors Program directly to ask your specific questions!
Laura Goddard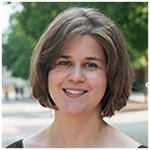 Senior Admissions Counselor
The University of Iowa
Office of Admissions