It's about four months away from your high school graduation, congratulations! But don't forget about your long-term goals. Before you know it, you will be caught up in the excitement with the end of high school activities, hanging out with friends, and preparing for your summer festivities. While these are all things to look forward to, there are some key factors to keep in mind over the next few months to prepare you for college and set yourself up for success.
First, don't forget to finish strong in your classes! Your grades still matter. Even though you have already been admitted to Iowa or other institutions, you still need to try to get the best grades possible. Colleges will be requesting your final transcripts upon high school graduation. These final grades will be used to confirm that you are in good academic standing prior to starting at the University of Iowa.
Next, you should apply for scholarships within your community. Work with your high school counselor to find scholarship opportunities. Many times, your high school counselor will have some great pointers or places to begin searching for outside scholarships. Also, consider looking at scholarships on a national level, such as databases like Fastweb and College Board.
Over your high school career you may have taken Advance Placement (AP), International Baccalaureate Program (IB), or College Level Examination Program (CLEP) courses. Now, you might be wondering if you can receive college credit for your hard work in these classes. Visit our Credit by Exam Options to see how you can earn college credit before you arrive on campus. This will free up time and money to potentially pursue a double major, an additional minor, and/or a study abroad experience.
If you have not applied to the University of Iowa yet, but still have interest in attending, our application deadline is quickly approaching on March 1st! Apply now, HERE!
For students who have applied and been admitted, you have until May 1st to accept your offer of admission. You can accept your offer of admission via your admission profile by paying the $250 acceptance fee.
Enjoy your last few months of high school, and welcome to the Hawkeye family!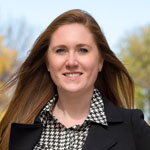 Erin Monroe
Admission Counselor
The University of Iowa
Office of Admissions