Hi Future Hawkeyes!
Each day, it is getting closer to the deadline to accept your offer of admission. The last day to accept your offer of admission to the University of Iowa is May 1st , and we want to do everything possible to help you make your decision.
Important factors to consider:
Do you feel comfortable on campus?
Does the University of Iowa feel like home?
What do you see yourself getting involved in on campus?
Is this the right financial fit?
Consider visiting campus! If you have not visited the University of Iowa yet, we strongly encourage that you do so before May 1st. If you have been to campus before, we would love to welcome you back! This is a great opportunity to ask questions to our current University of Iowa students. By visiting campus you can gain a better feel for the way campus is set up and where you will be spending your time as a student for the next four years. We would also encourage you to explore downtown Iowa City and get a taste for the local culture that makes up our eclectic college town. Click HERE to schedule a visit, or call our Admissions Visitor Center at 319-335-1566.
What remaining questions do you have about the University of Iowa? Please contact our Office of Admission to speak with an available Admission Counselor to find the answers to your questions to help you make your decision. Phone: 319-335-3847 Email: admissions@uiowa.edu
In the end, trust your gut. If Iowa feels like home and you are excited about all of the opportunities that come with attending a Big 10 institution with a small town feel, make sure you accept your offer of admission via your admissions profile by the May 1st deadline.
We are excited to welcome you to the Hawkeye Family, and we hope to see you on campus this fall!
Go Hawks!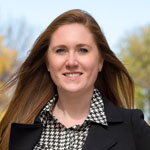 Erin Monroe
Admission Counselor
The University of Iowa
Office of Admissions