Hi Future Hawks!
With just months left until you begin your first college classes at the University of Iowa, I want to remind you of resources available to help you succeed academically and personally at the University of Iowa!
At your summer orientation program, you will meet your academic advisor and select your classes for the fall semester. Your academic advisor is a wonderful resource to you throughout all of your years in college, but most importantly your first semester. Your Academic Advisor can help provide insight to help you decide what you would like to major in, how classes can best fit your interests, help you create a balance between schoolwork and having free time or being involved on campus. They are like a one-stop-shop for any questions on how to succeed your first semester.
It is important to focus on your academics upon arrival to Iowa, and seek out resources that will help you do your best in your classes. Supplemental Instruction is a free resource offered for assistance in many of the classes students will take during their first year at Iowa. It is a tutoring session led by an upperclassman who has previously exceled in the course. The Academic Resource Center (ARC), located in the Iowa Memorial Union, assists students with finding tutoring opportunities, but is also a great place to start learning about our other tutoring centers on campus. Learn more about the opportunities here.
Don't forget to have fun and get involved on campus! If you have questions about different student organizations or how to take the first steps to being involved, make sure to stop by the Pick One Fair during On Iowa! or reach out to the Center for Student Involvement and Leadership. Remember there are over 500 different student organizations and ways to make connections on campus!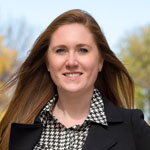 Erin Monroe
Admission Counselor
The University of Iowa
Office of Admissions