What. A. Night.
What game am I talking about? Oh, you know, The Ohio State Buckeyes vs The Iowa Hawkeyes, of course!
I have been looking forward to this game since I bought my student tickets at Orientation. Ohio State has always been a tough opponent for Iowa, and the rest of the country. The Buckeyes are almost one of the most memorable and respected programs in all of college football, and to say I saw them play up close and personal was pretty exciting for me, being a huge Hawkeye fan and whatnot.
I had a good feeling about the game all week. My dad and I were talking about the new uniforms on the Sunday they revealed them, which by the way were totally swagtastic (I mixed the word 'swag' and 'fantastic', just letting you know).
Then, I made one of my most bold statements of the year to him, and even Twitter: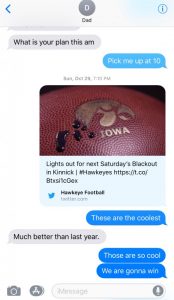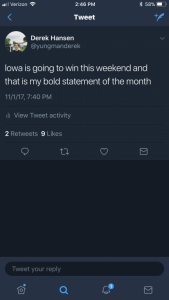 So, for all of those fake believers out there, shame on you. I know being a fan of the Hawkeyes can be a love-hate relationship sometimes, but at the end of the day I will always be Hawkeye.
Now don't get me wrong. I didn't predict a complete blowout like what I witnessed on Saturday, November 4th.
The atmosphere was unreal. Fans were decked out in all black, hence the theme of the game being a blackout. There were a lot of red for Ohio State, which didn't surprise me since they are known for always traveling well.
Oh, by the way, did I mention I was sitting front row in the student section?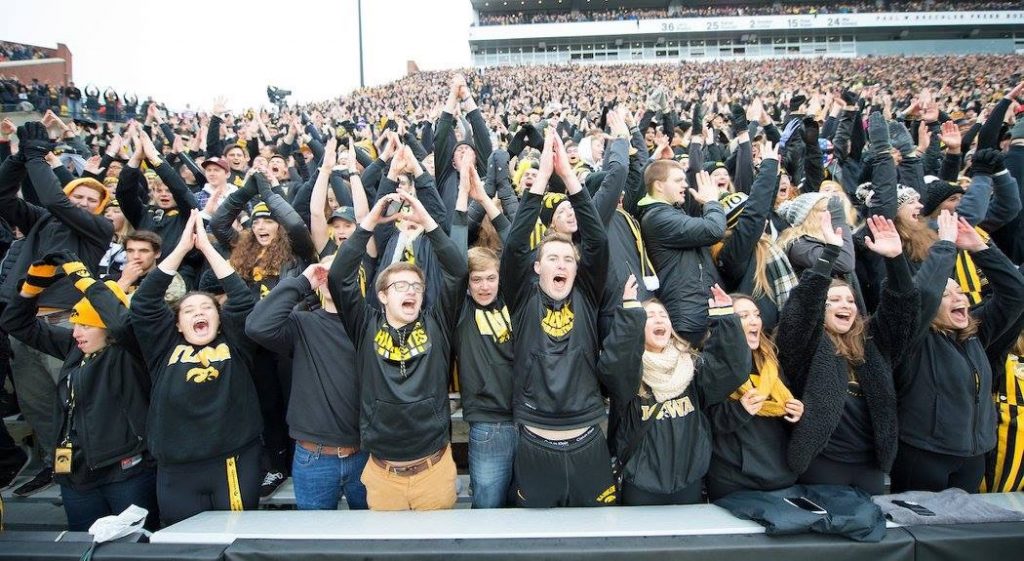 I am the one in the khakis, and I was yelling 'I!' like there was no tomorrow. It is Monday and I still have a raspy voice. It's fine though, because I know I wasn't the only one yelling, as you can tell in this picture.
I don't really know when that picture was taken, but I am assuming after the Hawkeyes scored on the FIRST PLAY OF THE GAME. Like I've read on multiple articles, "Seven seconds. Seven Hawkeye Points." Amani Hooker intercepted J.T. Barrett and took it back for a 30 yard touchdown, and Kinnick Stadium blew up.
Ohio State did answer with a touchdown of their own, but it was one of the only times they did answer. The score was 31-17 going into halftime. @hawkeyefootball then posted a halftime update video with a Hawkeye legend, Desmond King. He was drafted this year and is now playing for the San Diego Chargers. Can you spot the khakis?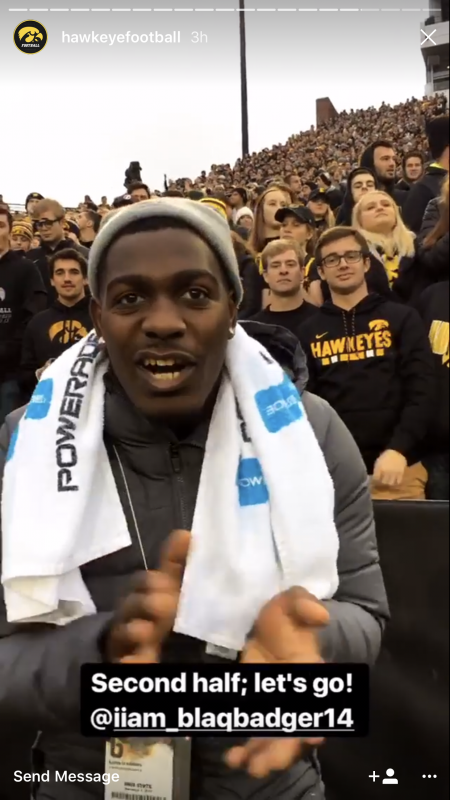 Yep, you bet that is me in the background with the King! He got the student section fired up for the second half, and the Hawkeyes themselves kept the fire.
Our defense played on a whole new level, shutting down one of the most experienced quarterbacks in college football. He threw 4 interceptions, 3 to one bad man named Josh Jackson. Look at this crazy one handed interception he had so pretty much seal the deal for the Hawkeyes: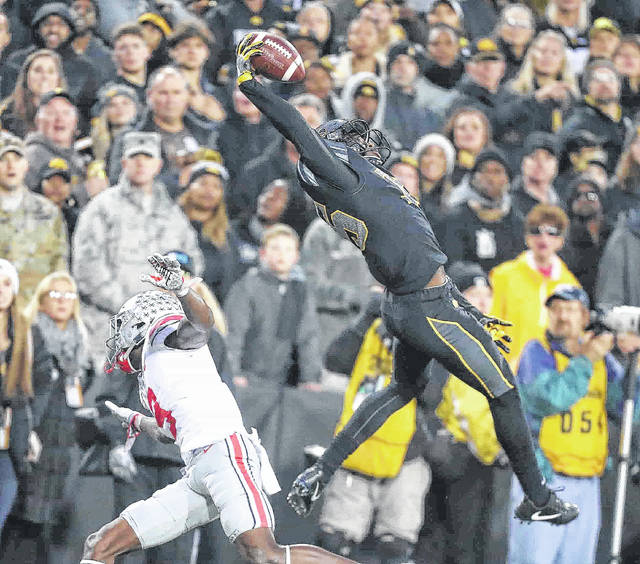 That play has been on replay for a couple days, but it will forever be in the minds of Hawkeye fans everywhere.
Everyone in the stadium knew the game was over by the 10 minute mark of the 4th quarter. That is when people were planning to storm the field, my buddies and I included.
We were on the turf with 30 seconds left, and Ohio State was still running a play. By the end of the play, we booked it out there. The stadium was so loud and all I could see was green turf and Hawkeyes in my vision. People were running like they stole something and meeting for a party on the Tigerhawk logo at mid-field.
https://www.youtube.com/watch?v=RC7oGeTIfXI
Watch that video to see the craziness unfold. I mean, we did beat the No. 6 ranked team in the nation in brutal fashion, with the final being 55-24. By the way, no one had beat the Buckeyes that bad since 1994, which is pretty insane.
Here is a full pic of what the 'Black Sea of Kinnick' looks like: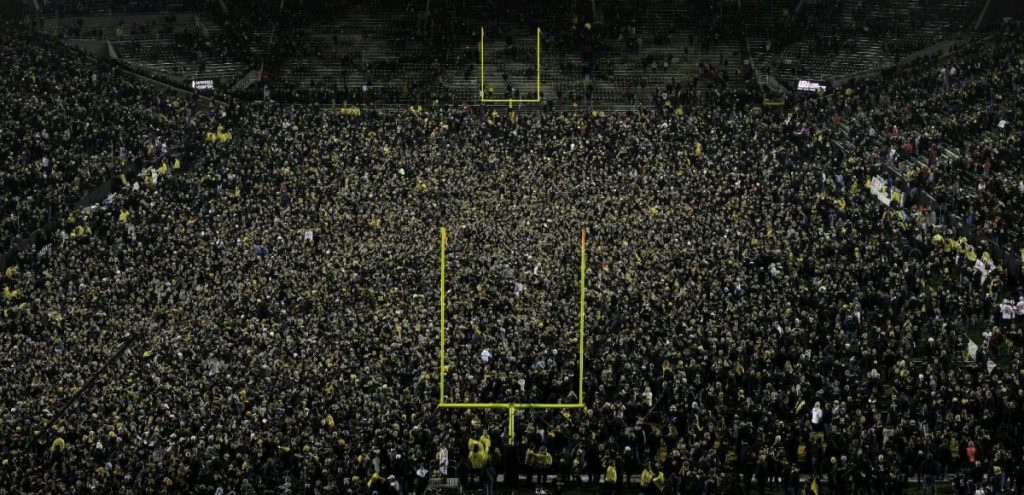 Yep, I'm in the middle. Maybe if I was a little taller you could spot me out. So much pride was being spread. "LET'S GO HAWKS, LET'S GO HAWKS, LET'S GO HAWKS!" That chant went on for a while, but I really wish it never ended.
I'll never forget celebrating with all the players on the field. That game will always reinforce why I love being a Hawkeye. I will tell this story to my kids and hopefully they can experience the same thing (Yes, my kids will be Hawkeye fans, it is one of my main goals for fatherhood).
I had a short conversation with wide receiver Nick Easley during the mosh pit with thousands of people, and he ended it with, "It's a good day to be a Hawkeye."
Nick was right, but everyday is a good day to be a Hawkeye, in my opinion.