As soon as I arrived on campus for the early move in on Sunday August 12th, my mom and I immediately felt at home.  The warm welcome from all of the Iowa Student volunteers as well as from the other people already moved in on my floor, made me realize that this place was truly home for me now. Coming from Southern California, the classic "Midwestern Hospitality", is something that may sound cliche, but it truly is something that exists.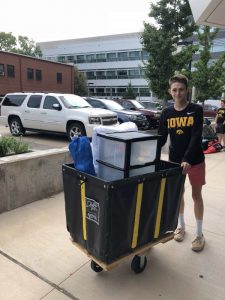 As Monday started and Honors Primetime classes began, the hospitality continued.  We went to our respective classes and begun with our projects for the class.  The task for my class entitled, "Iowa City Guide," was to explore and wander around Iowa City and find an interesting spot near campus.  This spot could either be a store, restaurant, park, etc.  Our group walked around Downtown for at least two hours and got to see many diverse parts of this great city which helped me become comfortable living here.
Once my group discovered the place we were going to report on (a Coffee Shop called "Cortado") , we wrote many drafts, in which we discussed the Cafe in detail and interviews with a barista working there and a customer.  We also collected some photos to include in our post.  The three of us also was able to bond through this project and critique our own writing along the way.
The beautiful part of this project was getting the opportunity to bond with some people who I just met and get the chance to wander around this exciting city more.  Once you actually visit and live in Iowa City, you truly come to realize how much the city and The University co-exist.  Classes will be located next door to some fantastic restaurants or even your dorm (like mine) will be a block away from the buzzing downtown area.
In the middle of the primetime classes, there has been many great events I have attended to get to know and bond with my fellow freshman and upperclassmen as well.  Members of "The Salt Company", a Christian ministry on campus, invited some of us Daum Hall residents out to the recreation fields to play some beach volleyball, ultimate frisbee, and soccer.  They provided transportation to the fields and talked to all of us from an upperclassmen's perspective.
They shared with us their own On Iowa stories and memories.  It was a great opportunity to talk to them about their adventures at Iowa and hear their experiences on campus so far.  In addition, they explained to us the premise of the Salt Co. and the Christian community that they have built through it.  With over 500 members, the Salt Co. is one of the biggest groups on campus and it was nice to find a Christian community like that within my first two days on campus.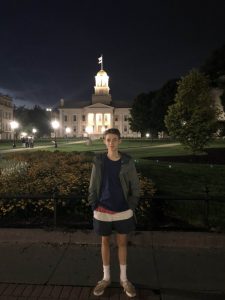 Once my classes ended for the week, then all of the On Iowa! festivities began!  Friday began with a Coffee Crawl.  The "Crawl" involved fifty of my fellow freshman and I walking around Iowa City scouting out different coffee houses to try and see which one was our favorite.  Friday, however, got even better as the night came.
Friday night was the famous "Kickoff at Kinnick" event.  Going onto the field at Kinnick Stadium was a sight and dream in itself, but even more so than that, the bonding experience between my friends and I was incredible.  Within less than a week of being on campus, my fellow dorm-mates and I in Daum Hall were running 40-yard dashes and kicking field goals at Kinnick Stadium.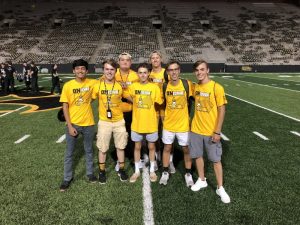 Coming from Southern California, and not knowing many people at Iowa was a scary thought to begin with.  Homesickness was also a significant worry of mine coming from over 1,750 miles away to Iowa.  But I must say, the community I have already formed here at Iowa which includes my roommate, dorm-mates, upperclassmen, and other freshman, has helped me through this transition to living in Iowa.
As cliche as it may sound, even within my first week, I feel as much a citizen of the Iowa City Community, as I do a student at The University of Iowa.  The On Iowa festivities culminated with Convocation and the Block Party at the house of President, Bruce Herald.
Over the course of this week, I have made potential friends for life, had phenomenal experiences, immersed myself within the community, discovered many student organizations, all while just enjoying life on a college campus for the first time, before the rush of classes begin next week.