As I entered Kinnick for my first time as a student, I immediately felt the energy radiating from the student section.  The volume and electricity that resided in the stadium was unprecedented. Fans had all been waiting for a long eight months for Hawkeye Football to return and so the excitement was more than justified.  Me, being one of those fans who were eagerly waiting for this game, loved the atmosphere in Kinnick.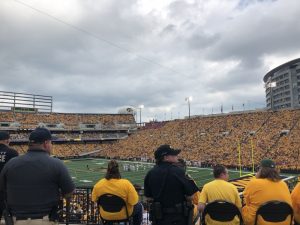 The entire gameday experience made the game even better.  My dorm mates and I walked over from Daum Hall, across the river, to Kinnick to arrive two hours before kickoff.  We were all so excited for our first game as students at Iowa. We were lucky enough to get great seats and to have a great view of the game!  
When AC/DC's "Back in Black" began to play, the excitement continued to grow rapidly.  As the Hawkeyes swarmed out onto the field for the first time in 2018, I began to take in the greatness of this moment.  It made me realize that this sort of atmosphere in Kinnick Stadium was the true reason I came to a quintessential college town like Iowa City.  That morning when my roommate and I walked over to the Campus Recreation Center at 8 am, we saw people already walking and driving over the Iowa River to begin their tailgates.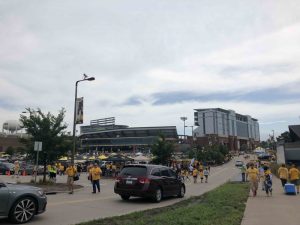 The large tailgating display and dedicated Hawkeye fans showcases the vast Alumni network of proud people who call themselves "Hawks."  I first realized this family of Hawks when I was living in Los Angeles. As soon as I got the acceptance letter to Iowa and committed (on September 1st of 2017), I began to wear around Hawkeye gear non-stop around Los Angeles.  Whether I was walking on the beach, into a coffee shop, or even at a Clippers game, I would hear random people strolling by who would yell "Go Hawks." Being over 1,750 miles from Iowa City and hearing the phrase, "Go Hawks," immediately diminished any fear I had in my mind about going to a school far away from home.  Hawkeyes support each other through everything in life and never try to be manipulative to beat them. Many of my friends at their colleges feel a sense of competition among their peers to be the best in their class or advance the farthest in their department, but at Iowa the sense of community and virtue of "loving your neighbor" reigns as the main priority.       
The entire gameday experience from when we entered Kinnick to when we all left, was one of the many reasons that I chose Iowa over many other universities.  To add to this, the Hawkeye fan base was passionate about their team and cheering them on to a great victory. Despite all of this cheering for the team, the true heart-warming spirit for the afternoon occurred at the end of the first quarter when all 70,000 Hawkeye faithful in Kinnick Stadium waved to the brave children up in the hospital for the first time of 2018.