Coming from Los Angeles, CA to Iowa City is definitely a stark contrast.  Going from 16 million people to 75,00 people is an adjustment. Going from sitting in two hours of traffic to being able to walk from one end of the city to the other is a change.  Going from knowing no one while walking around to seeing five of your friends walking from class to class is different. Now these are just a few of the many ways that Iowa City is different than Los Angeles or any big city of that matter.  Going from 80 degrees everyday and sunny to 15 degrees is quite different.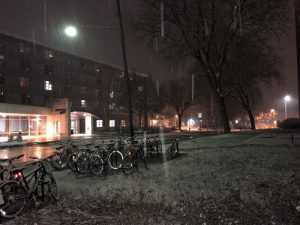 Not only have the leaves changed drastically, but Iowa City finally got its first snowfall of the year, and it could not be nicer.  Since this is one of the first times I have ever seen snow, I appreciate it so much more than students from the Midwest area. I'll be honest though, for one night and brief day, the snow was beautiful and bearable, but I am not too sure how I will do bearing through this weather on an everyday basis.    
While obviously Iowa City isn't for everyone, I have found a love for this fall season here so far.  The changing of leaves and colder weather hasn't affected me too greatly (yet) and I have loved to small sense of a quaint college town.  Seeing friendly faces all around and knowing people within your city has been a perk that I love of this great city. Here in Iowa City, people genuinely want to know you as more than just a student or whatever role you are in.  Residents of Iowa City are actively engaged within the community and the college town environment. Also, all of the students are incredibly respectful to the community that surrounds the college.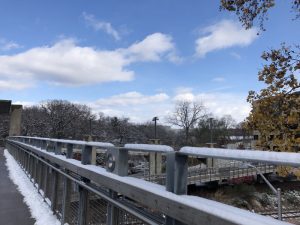 I have met amazing people and have engaged in community events which helps to bridge the gap between students and residents.  I truly feel as though I am not merely a student here, but a resident in Iowa City. This distinction is crucial due to the fact that I have no longing to go home, because I have found a home here.  I feel welcomed wherever I go and have cultivated a community with many people here with whom I could talk with for hours.
The differences from a big city to a smaller town as noticeable and should be a factor weighed within a college decision.  I truly believe that going to a quaint small college town is a terrific opportunity that encourages community engagement, school spirit, and a sense of belonging that is unmatched by any big city.  This city has all of the fantastic resources of a large scale city with sports, art, and culture, but has the small, cozy, college town feel that one can only get while living in a city like this one.