On Iowa! is a program the week before classes start that introduces new students to campus and Iowa City. Every hour there are new events to try that encourage people to make friends and explore. During On Iowa! I attended yoga on the Pentacrest, a Coffee Crawl, the Poetry Slam, and a presentation about living green on campus. There were also events like gamers' night, table top games, a dessert crawl, and late-night bingo.
Kickoff at Kinnick is an On Iowa! tradition to welcome the new students to the University of Iowa. On Friday night the freshmen walked across the Burlington bridge, up the hill, and into the gates of Kinnick Field. We filtered onto the field while the Hawkeye Band threw marching tunes above our heads.
We were instructed to turn to the Children's hospital and wave. Five thousand hands hit the air. In the distance, I could see three bright lights shaking back at us from the top floor of the hospital. The children waved to us with cellphone flashlights. A murmuring ran through the crowd, and then silence as we internalized the importance of the moment.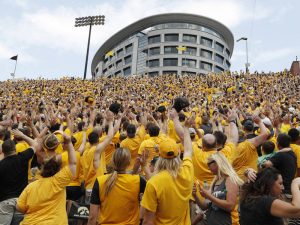 Kickoff at Kinnick was intended to welcome us to the University, but it was, at least in part, to remind us to look up. For many students, college is the time of self-discovery, the time for the pursuit of their interests, and the time be an individual. The Kinnick wave, however, is to remind us that we should notice the lives of those around us. It is easy to forget that across the river children are fighting for their lives and families are struggling to find peace in a difficult time. We need to support the struggles and celebrate the successes of one another. We need to call our families and ask how someone else's day is going.
We need to be reminded that life has a larger story to tell when you just look up.
My story here in Iowa is just beginning. For the first time in my life, I'm 850 miles from my family, but I'm not scared. I'm overwhelmed by the literary culture of the city, the friendliness of the students and staff, and the sense of belonging that I've already developed.
This week I've been walking on uneven ground without the soft familiarity of home to rely on. Each day, I move closer to standing up from my crouched, uncertain stance. Behind me in the distance, I hear my parents shouting their support and guidance as I take this new set of first steps.
Here I stand, looking up, feeling more certain than ever that the University of Iowa is the right place for me.