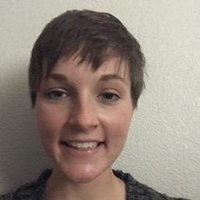 My name is Lauren and I will be a first-year student at the University of Iowa this year! I am from a suburb of Dallas, Texas and I currently plan to pursue a double major in History and English & Creative Writing with a Certificate of Sustainability. I will be living on the east side of campus this year.
The University of Iowa appealed to me because of the strength of the English and Creative Writing program. I was interested in going out of state for college, but I was unsure where I would land until I set foot on the UI campus. Iowa city sparked something in me. The literary spirit is incredibly potent within the city, and there are few things more inspiring than a campus full of impassioned writers.
I am motivated to write, to exercise, to get up and be a nice person by a drive I feel inside me to contribute something every day. I approach each day, the good and the difficult, with the intention of learning something interesting. Each moment forms a story; each person has a narrative, and I want to be a part of it all.