Finals are right around the corner and before we devoted our days to studying for hours on end, my friends and I decided to have a mini girls day! On Sunday, we went out for brunch at Atlas, did some downtown Christmas shopping, and ended the day with a musical held by the Theatre Arts department. Finals week can be very overwhelming, so I suggest having a fun day with a few friends before chaos slowly creeps in.
The day began with brunch at Atlas, a popular restaurant downtown here in Iowa City. They recently began serving brunch on Saturdays and Sundays from 7 am to 2 pm. The food is delicious, the staff is friendly, and the prices aren't too over whelming for the quality you are receiving! Whenever I eat there, I typically spend $12-15 dollars on myself. It's also a great place to take your family or friends whenever they visit.
We then headed off to do some light downtown shopping in the few stores there are here. There are by far a lot more restaurants and bars than there are clothing stores, but the few options that are here are extremely cute. My favorite would be the White Rabbit Shop. It's a small boutique only found in Iowa City. They sell just about everything you can think of in a small clothing store. My favorite thing to buy from there would probably be the jewelry or pins/patches/stickers.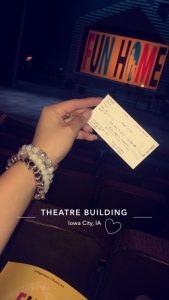 To wrap up the day, we attended a musical performance held here at the University of Iowa by the Theatre Department. They hold a various amount of shows throughout the year. We attended Fun Home, a musical memoir that a young woman wrote about her father. I don't want to give away too many details. . . but it was everything I expected and more! The actors, props, and music were all executed nicely and I really enjoyed my time there. I highly recommend attending a play, musical, or dance performance sometime in your time here at the University.
Theatre Arts Department schedule
Here's a little vlog that my friend Bailey made of the day! 🙂