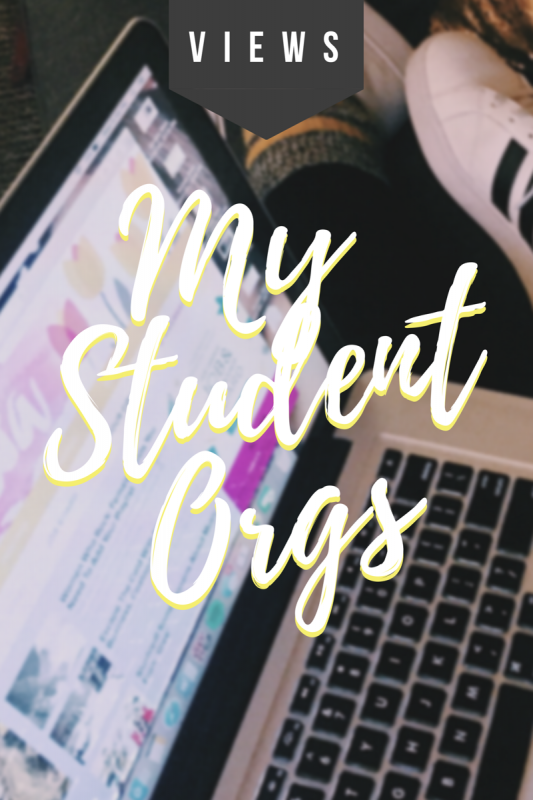 In my sophomore year, I have started getting really involved with my student organizations. Here on campus, I'm on the executive board of Her Campus Iowa as Director of Social Media and a Director of Public Relations for my sorority, Delta Gamma. With over 500 student organizations to choose from on campus, sometimes I feel like being involved in just two of them isn't enough. However, I pour my heart and soul into the positions I have because I know they're building a huge portfolio for me to use one day if I want to be in the Social Media Industry.
Her Campus Iowa
About a year ago, I was introduced to an organization on campus by my advisor through this admissions blogging project (Hey Aly!! 😊). She said she came across an organization that made her think of me and let me know that they were accepting new members. I can't thank her enough for directing me to Her Campus because it has seriously impacted my college experience for the better.
For those who don't know, Her Campus Iowa is a branch of the national Her Campus brand with chapters all over the country. Our goal is to provide an online platform for collegiate women to gain experience in journalism, social media, marketing, event planning, and so much more. Our editorial team writes pieces similar to articles you'd read in a magazine like Cosmo, but oftentimes with an Iowa City/University of Iowa twist.
When I realized what Her Campus was all about, I couldn't believe I hadn't heard about it sooner! As a student minoring in journalism and majoring in media communication studies, my mind was blown; this was the perfect student organization for me. However, when doing research on the University's webpage of student orgs, it didn't show up. I'd later find out that Her Campus is a for-profit organization so the university doesn't allow it to be a registered student org on campus. Some may see this as a negative thing, and it sure is frustrating now when trying to get our name out in the community, but I knew I'd be gaining great experience by being involved. So that's exactly what I did.
I joined the social media and marketing team because I wanted it to be my goal to make sure that no one else like me went without knowing about Her Campus. By the end of April, I became co-social media director with my best friend and got to work!
I've built a pretty solid portfolio of tweets, Instagram stories, event graphics, and am working on getting our follower count up. I'm not sure what it was at the beginning of the school year, but I know I wanted it to be at 1,500 at the end of second-semester and we're so close! Liz and I have implemented a striped theme on our Instagram page and I think it looks pretty cool.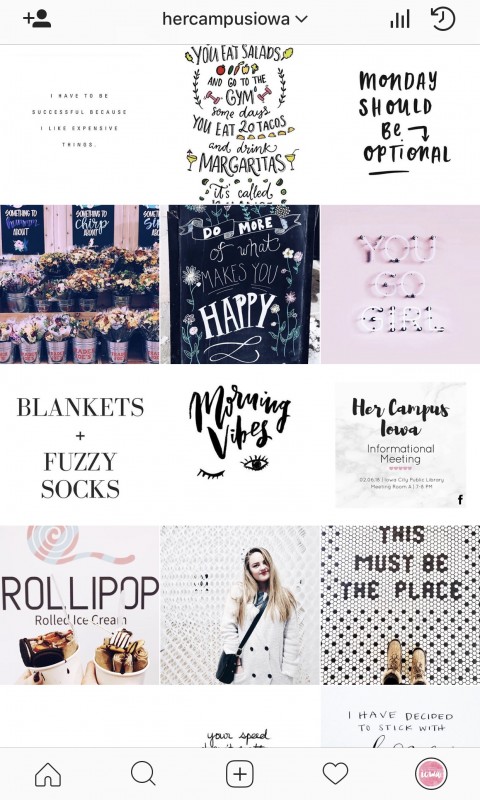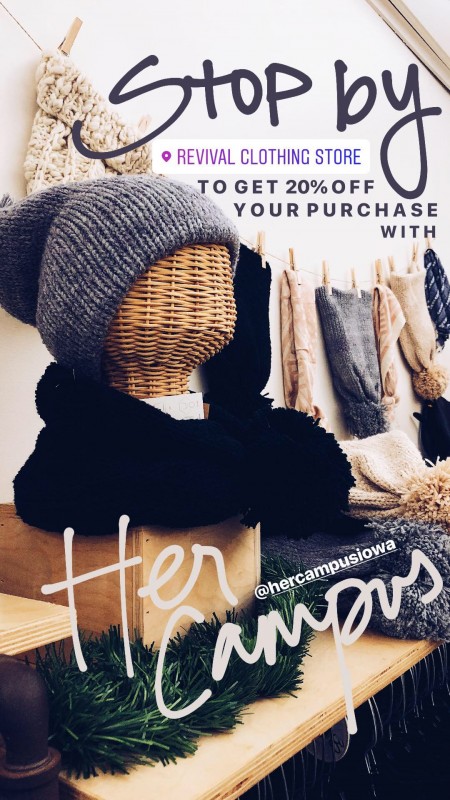 Not to mention the fact that Her Campus has also given me the opportunity to travel and learn from some of the brightest professional women who have real-life jobs in media. This summer, I attended Her Conference in New York City to learn from, collaborate with, and meet collegiettes from around the world. It was a two-day event with delicious breakfasts and lunches, informative panels, and keynote speakers that truly inspired me to keep working toward a career in media. I loved it so much that I purchased a VIP pass for this year's conference so I could have an even more fulfilling experience. This was a trip I paid for completely on my own and it was so worth it. I worked the entire summer to help pay for my expenses (and of course the multiple shopping trips we went on and delicious food we had to eat). This is a topic I could talk about for multiple blog posts, honestly. But that's the gist of my experience!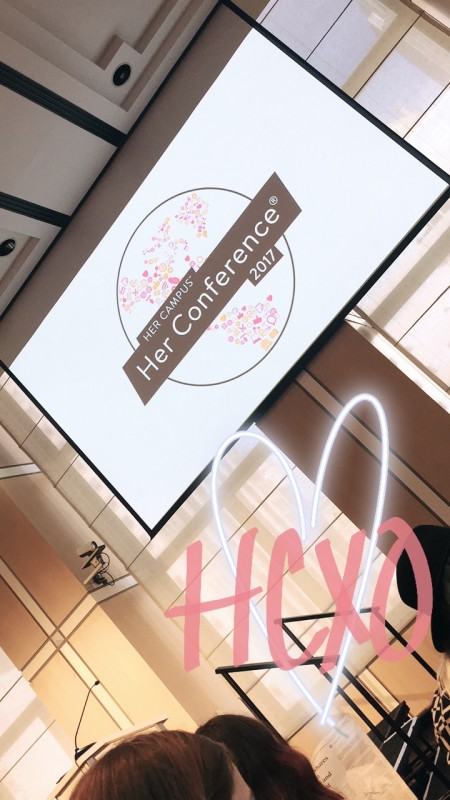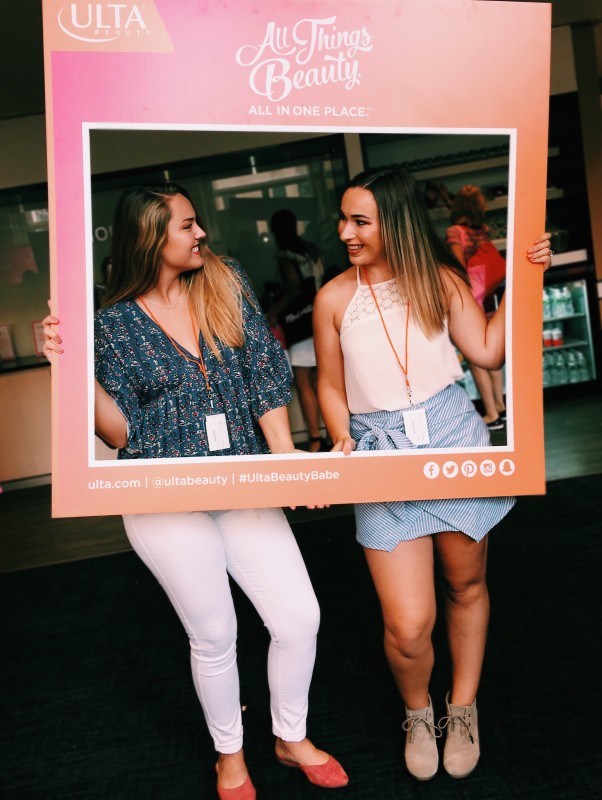 Delta Gamma
This is another topic I could go on and on about, but I'll try to keep it brief.
I honestly never saw myself as a sorority girl in high school. I didn't like the idea of paying expensive dues and being surrounded by 100+ girls since I kept my friend circle relatively narrowed-down to the drama and choir kids by the time my senior year rolled around.
What I didn't realize, though, is that the sense of community I was getting from my drama and choir friends was exactly what I was missing the entirety of my freshman year of college. I didn't know how to meet people without an organized group of like-minded individuals and felt extremely bored and lonely a majority of the time. There's no way I could say I feel like that now that I am in a sorority.
Delta Gamma stood out to me during the formal recruitment process because I believed they could offer something truly special to me. Not only would I be receiving a circle of 100+ new, down to earth girls willing to become friends with me, I'd be able to become involved in ways that could potentially build my portfolio even further.
As the recruitment process went by, I began to learn about all the ways I could get involved and hold leadership within the chapter. It was in the second round that I spoke to DG's then-Vice President of Communication (and now my Grand Big! Hey Alexis 😊) about all the work she and her team does for the chapter. I was sold. I knew from that very moment I wanted to have a leadership position and felt like I could truly have a place in a sorority.
Before I knew it, it was bid day and I was officially a new member! It wasn't too long after that we'd host our first philanthropy event, Dunkin with the DGs. Sororities do a lot of work for their designated charities and for this one, I made a graphic that girls could share on their Instagram and Snapchat stories to help spread the word. The timing couldn't have been more perfect to get my name out there because I had the opportunity to tell everyone if they wanted to see more stuff like this for our events, they should vote me as a Director of Public Relations in our upcoming elections.
A week or so later, I became one of DG's Directors of PR with my good friend, Kristen! Together, we run our sorority's Instagram and Tumblr accounts. I'll take pictures of our events and sisterhoods and love saying happy birthday to our members on the Instagram story. I save all of the images and content I create for this account (and Her Campus) because maybe one day I'll be able to attach some of it to an application in my future.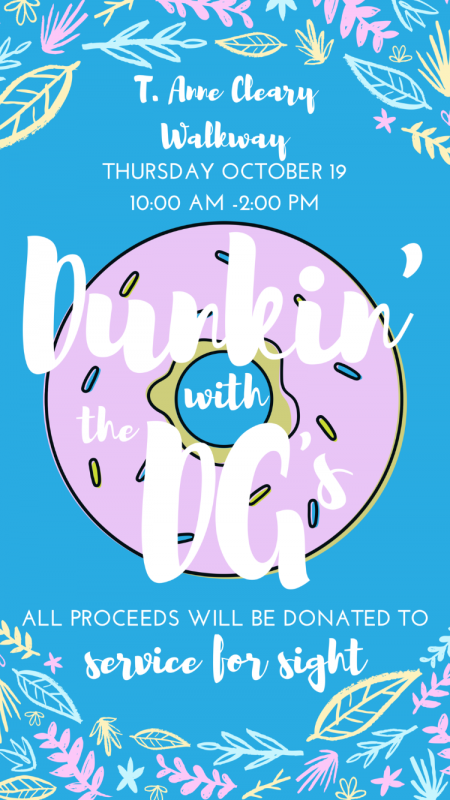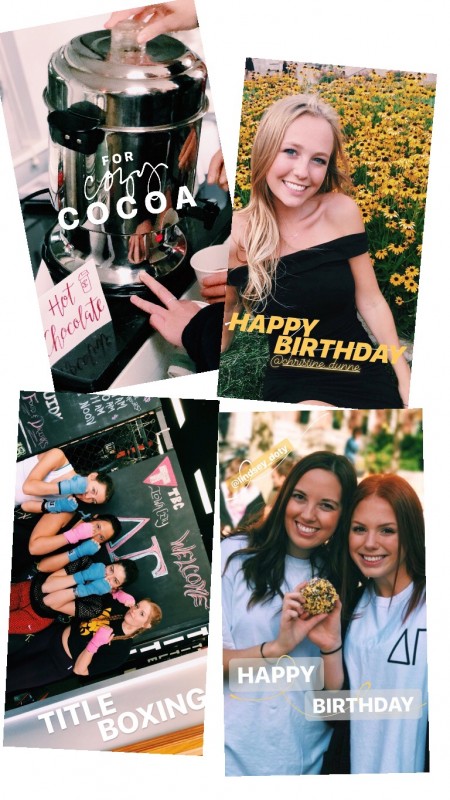 ✨  ✨  ✨  ✨  ✨
In the time I've spent becoming more involved with my organizations, I've learned that the experiences I can receive from them are truly dependent on the work I'm willing to put in. Not only am I making great memories, connections, and new friends, I'm also productively building a portfolio of media I could potentially use to get a job one day. I wouldn't change my experiences with Her Campus or Delta Gamma for the world and am so glad I'm taking advantage of the opportunities coming my way through these spaces!
Make sure you check out the University's website for more information on the countless other organizations on campus you can get involved in and always try to keep your eye out for groups like Her Campus who aren't officially a part of our school!
✨  ✨  ✨  ✨  ✨
Thanks for reading! I know I haven't been too active on here. I have a lot of obligations with these two orgs and academics that I still have a hard time balancing everything. I'm working on it, though! Feel free to follow my personal social media accounts to get a more up-to-date look into my life as a college student!
@rachel_crack
✨ Twitter・Instagram ・Snapchat ✨