In the midst of studying for finals, I realized that my window for buying my friends and family gifts in Iowa City was slowly closing. Next week, my last final is Wednesday morning and I plan on leaving town ASAP. Since I plan on basically living in the library whenever I'm not taking finals, that doesn't leave too much time for me to do holiday shopping those two days before leaving
I decided to treat myself to a study break yesterday afternoon and participate in one of my favorite stress relievers: shopping. I'm a huge fan of finding cute local shops in any town and two of my favorites in Iowa City are White Rabbit and Raygun. There's plenty of other fun shops in town like Tailgate, Catherine's, and Revival, but I always seem to find something I like in these two specific stores.
Here's a look into two of the best places to get gifts for your loved ones while you're still in town!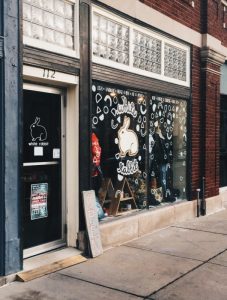 If I had to pick a favorite out of my top two shops, it'd be White Rabbit. This adorable little shop has a wide variety of items from vintage clothing to the hottest trends, local hand-made gifts, decor, men and women's apparel and even children's clothes. It gives off intense Urban Outfitters vibes and definitely has something for everyone. There are so many great items I had to do two laps through the store just to make sure I was seeing everything before I made my purchase.
The pictures I took were basically of the clothing in the store but there's tons of little knick-knacks like keychains, pins and adorable iron-on patches sold in there, too. I love getting gifts for people from shops like this one because they won't be able to get any of the items at home which makes the gift extra special. White Rabbit accommodates to a lot of different tastes and is sure to have something for your best friend or girlfriend (and honestly, yourself too). There's even a small selection of men and unisex clothing! If you live in Iowa City and haven't visited this store yet, I'm challenging you to do so before the semester is over. Not only because they've adorned the store with the cutest Christmas decorations, but because it'll most likely be your one-stop shop for unique gifts for the holidays.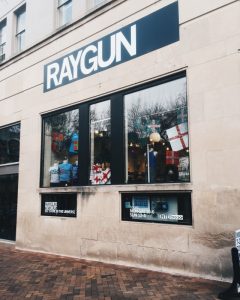 Although Raygun isn't exclusive to Iowa City, that doesn't mean you aren't going to find some of the most unique gifts for your friends (or family)(or whoever) there this holiday season when you shop downtown. They sell an abundance of things ranging from office supplies to t-shirts and yes, they have a children's selection too. Raygun carries fun, Iowa-related items that anyone in your family will enjoy. Their prices range from $1 to $85 so you're bound to find something within a reasonable price range
I decided not to share what I bought because that would completely spoil the surprise for my friends! But wherever you decide to shop for your friends and family this holiday season, I'm sure you'll find great gifts 🙂 I just know that White Rabbit and Raygun both have an outstanding selection of reasonably priced unique gifts for any of my friends and family members so I definitely made sure to be hit them up before heading home after finals. 🎁
Keep checking out my personal blog! https://freshhawk.wordpress.com
✨✨✨✨✨