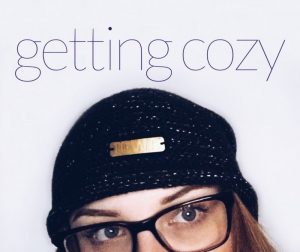 If you're familiar with the weather patterns of this fabulous state, you know that you need to be prepared for anything. One morning in the winter, you could wake up to sunny skies and temperatures high in the 40s to 50s with the hopes of having a decent walk to your classes on campus. But wait! Just kidding! As soon as you leave your afternoon lecture, you see that there's a torrential downpour and realize you've left your umbrella in your closet. Again.
As an Iowa native, I've come to terms with the inconsistency of our climate but I still find myself in the worst situations with this weather. You'd think by now I'd learn to check my weather app before leaving my room (or even take a peek out the window), but when I'm running late to class, that's the last thing on my mind.
Lately, it's been extremely cold on campus. Not necessarily snowy or rainy, just nasty, the-air-hurts-my-face cold. I'm generally very chilly at all times, even in heated buildings, so when it comes to getting cozy, I feel like I know a thing or two.
First, there are the obvious things like sweaters, fuzzy socks, and fleece-lined leggings to get me through a cold day, but I've found that having the right outerwear really makes a difference.
In high school, I remember always going for the "cuter" option when running out of the house in the winter. My outerwear usually involved wearing a sweatshirt, the knit sweater I was wearing with my outfit already, or no coat at all. I realize now that this was a really dumb move on my part, and is probably why my knuckles would get so dry that they bled from not wearing gloves. However, thinking back on it now, I had the luxury of a vehicle for transportation to and from my education and now all I've got is a crowded cambus (if I'm lucky) and whatever I put on myself.
Since the winter of my senior year, I've started to care less about how cute I looked in my outerwear and began to focus on comfort and warmth. For Christmas that year, the majority of my gifts were things to help prepare me for walking to class in the cold and they've honestly saved my life (that might be a little dramatic, but it feels too true).
I was going to make a post before the Holidays explaining all the things you should put on your wish-list in order to prepare for college in the midwest, but shopping for outerwear right now is more ideal. Most stores are putting all of their coats on sale in order to prepare for spring so get out there and catch those deals on these necessities while you still can!
Parka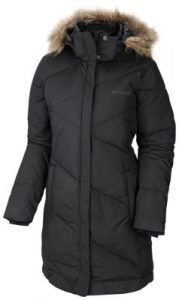 First, you NEED to have a winter coat that goes below your waist. I've felt so #blessed to be warm all they way down to my knees while walking to class, and I know I'm not the only one who owns a long, down-filled coat who feels this way. All of my outerwear is from a Banana Republic outlet store so unfortunately, they're not available anymore. However, I've done some research and found some similar products for you guys to check out if you haven't done your college-winter-wear shopping yet! This mid-length one from Columbia looks just like mine, and is on sale right now, too!
WOMEN'S SNOW ECLIPSE™ MID JACKET
Rain Coat
Although this item won't particularly help with warmth, it'll surely come in handy on those days when you actually know it's going to be raining. Finding a super cute raincoat is great for the spring and rainy fall days. I like mine so much I often layer it to give more dimension to some of my outfits. This one from Macy's is on sale right now and I love the fitted waist.
Style & Co. Hooded Anorak Jacket
Vest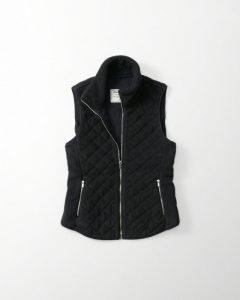 Including a lined vest in my college wardrobe made for a really great piece to layer with any outfit. In the fall, I found myself pairing this with simple long sleeved t-shirts, but it also looks extremely cute on top of flannels. This is a piece you can dress-up, dress-down, and layer on top of or underneath virtually anything. I actually think this one from Abercrombie is cuter than mine and I'm seriously considering purchasing this one for myself!
Snow Boots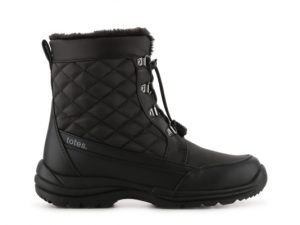 Alright, now, this is the perfect example of why practicality and comfort sometimes need to be put above style. It gets really slick and snowy here in Iowa, so having a durable pair of snowshoes to put on before walking to class is 100% essential. These Totes boots are lined with a warm, fluffy, fabric and never fail to keep my toes warm.
Rain Boots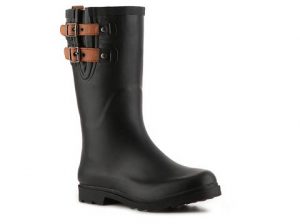 As cute as Hunter rainboots are, they can get pretty pricey. My mom is the queen of finding good deals and introduced me to these adorable rain boots by the brand Chooka and they come at such a great price. The brown accents make these black boots easy to pair with any outfit and I love them so much!
Gloves, Scarves, ETC.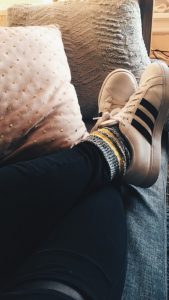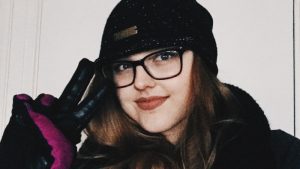 The additional accessories I include in my walking attire are almost as important as the big pieces, I think. I'm a huge fan of hats and beanies so when I randomly found this sparkly, knit IOWA hat at my local HyVee grocery store, I couldn't help myself. I love when I'm shopping and little, unexpected surprises like that catch my eye.
Socks have recently become a huge obsession of mine and I love incorporating cute crew socks with my sneakers in order to keep my ankles warm. These were gifted to me by a friend, but you can find knit crew socks literally anywhere.
You can't really tell, but the huge knit scarf I'm wearing is from Old Navy. They sell really nice, cheap scarves and so do places like The Gap and Target.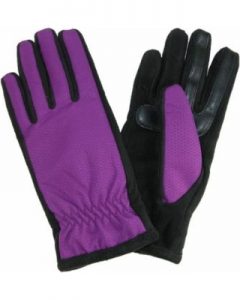 Finally, the gloves I'm wearing were gifted to me by my boyfriend's mom and I couldn't be more thankful for them! They're a really nice, heavy duty pair from the brand Isotoner with touch screen finger tips and lined with fleece on the inside. Investing in quality gloves will save your hands from the harsh winter air and these have been such a great addition to my daily winter wear.
Isotoner Women's Nylon SmarTouch Winter Texting Gloves in Concord Grape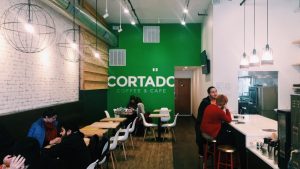 Of course, the final thing I use to get cozy in the winter is a nice cup of coffee. A new coffee shop just opened up on Clinton street, called Cortado, and I absolutely love it.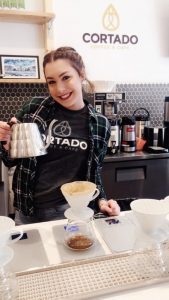 My roommate, Celia, works here and I always visit her when she's got a shift. The atmosphere is incredible, the prices are similar to (or often cheaper than) Starbucks and it's closer to the heart of campus than Starbucks, too (therefore, less time walking in the cold). They sell a variety of coffee, pastries and even have a breakfast and lunch menu. My favorite drink is the Mochaccino, but I've also gotten the caramel latte a few times and indulged in a chocolate espresso muffin one morning.
Hours: 7:00 AM – 6:00 PM
Thank you for reading and I hope this helps to make some of you a little bit cozier on campus this winter 🙂 As always, make sure to check out my personal blog and social media!
@rachel_crack
✨ Twitter・Instagram ・Snapchat ✨