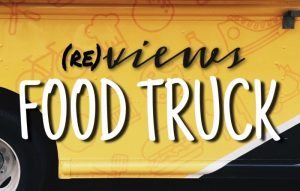 Lunch: the one time of day I'm always looking forward to no matter how I'm feeling. There's seriously nothing more satisfying than fulfilling your hunger, and lately, I've been taking advantage of the Street Hawk Food Truck.
Located on the T. Anne Clearly walkway right behind Calvin Hall and across from the Pappajohn Business Building, the Food Truck is easily accessible to any customer because of its close proximity to the heart of campus. From what I've briefly researched, the Food Truck debuted this past fall semester as a means of alleviating the congestion at the dining hall in Burge, making it now one of the 8 locations on campus students can redeem flex meals. I wouldn't get lunch here too often last semester because I'd occasionally sleep through the afternoon and just wait to eat until dinner (that's what strictly having evening classes will do to you) but now with my classes primarily taking place in the morning-early afternoon, I'm actually hungry for lunch at a normal time!
With the Gold meal plan, I'm allotted 75 flex meals to accompany my unlimited dining hall entries.  I think I ended last semester with a little over 60 of them in my account and unlike HawkDollars, flex meals don't roll over. That's 60 meals I let go to waste! So this semester I decided to use up as many of my flex meals as possible and I've gotta say, it's pretty easy when you love the Food Truck as much as I do.
It's almost been 5 weeks since I started my new round of flex meals and I'm already down to 55 of them! In that time, I've made it my goal to try new things from the food truck and make assessments on which meals I thought were the best. After all, it's kinda free so why not? Also, every item on the menu is available for purchase if you're someone who doesn't have flex meals or HawkDollars to spare. However, if you're a student who doesn't have a meal plan, I would highly recommend getting together with a friend who does and using one of their flex meals (unless of course they don't want you to, but I know I'm always down to share☺️)
Now, I'm no food critic and I still have yet to try everything on the menu, but below are some of my opinions on what I think is the best food the University has to offer.
Menu
My Top Picks
BBQ BACON CHEESEBURGER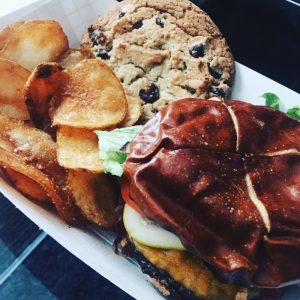 It's no secret that this is the truck's most popular item. I'll be waiting in line for my meal and notice that a majority of food being called out the window is this one – but for good reason!
First of all, it's got bacon and barbecue sauce on it so is there honestly anything else to say? I'm always on the lookout for good burgers and especially love the fried onion strings on this one. They also top it with cheddar cheese, 2 pickles, a tomato, and lettuce. I pretty much always get the cookies and chips as my two sides.
GARDEN VEGGIE BURGER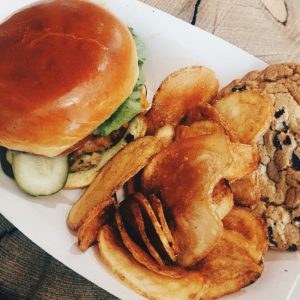 This semester I decided to become a little more health conscience and even though I'm sure there's not much difference in calories between a regular burger and a veggie burger, I still feel a little better about my health after eating it. I've always been super willing to try new dishes and the Food Truck's veggie burger pleasantly surprised me! They alternate the types of food, but there's always at least one vegetarian option on the menu.
The patty is primarily made out of broccoli and it actually has a decent flavor. On the rest of the burger, you can choose to have lettuce, tomato, pickles, cheddar cheese, a tasty black bean spread, or of course, all of the above.
The only downsides to getting this sandwich are that since it's not as popular as the actual burger, it takes a while for the cooks to get it out the window (same goes for the wrap I mention later) and the patty itself falls apart really easily. However, I don't necessarily see this as a negative thing. The little crumbles that fall out clean up really well with the fresh potato chips 🙂
CHICKEN TACOS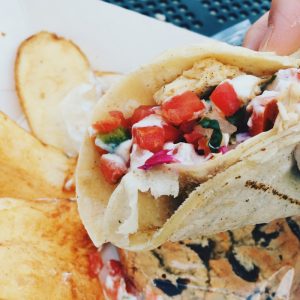 Every day, the truck likes to feature an item that's not on the menu, and one day I was lucky enough to catch these chicken tacos. In this meal, you get two tacos and although they look small, they'll make up for it in deliciously fresh flavors. They're made with traditional tortilla shells, which provides a unique aspect to this meal, especially for someone like me who has gotten used to Americanized taco shells and tortillas the size of my face.
I've only ever seen these as the special once, however, the truck now features Chorizo Tacos on their main menu. Chorizo is highly seasoned, ground up pork sausage and if you're into spicy tacos, then these are for you.
FALAFEL WRAP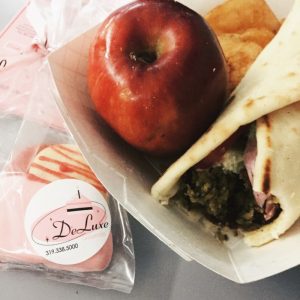 Finally, my favorite, the falafel wrap. If you would've told me last year that I'd be eating this just about every single day in college, I wouldn't even be able to tell you the first thing about falafel let alone think I'd ever try it and like it.
Falafel, as it is defined by Google, is "a Middle Eastern dish of spiced mashed chickpeas or other pulses formed into balls or fritters and deep-fried, usually eaten with or in pita bread". Inside the Food Truck's wrap, the falafel is topped off with cucumbers, a pickled slaw, a creamy feta spread, and hummus. This is the other vegetarian menu item that gets swapped out with the veggie burger and these two are honestly the only things I eat for lunch anymore.
This image isn't the best because if you look closely enough, you'll see I got a little impatient and took a bite out of it before I could snap a picture (sorry, not sorry). And although you do get the choice of a chocolate chip cookie for a side, you probably won't ever get DeLuxe bakery cookies with your meal. The day I got this wrap also happened to be Valentine's day and this bakery was handing away free goodies right next to the truck so obviously I had to get one!
Again, I'm not an expert, this is just my personal opinion. I'm still going to make it my goal to try everything before the end of the semester and if I happen to find a new favorite (which is unlikely) you'll be the first to hear about it 🙂
✨ ✨ ✨ ✨ ✨ ✨ ✨ ✨
As always, thanks for reading! Keep making sure to check out my social media for more of my daily life on campus and, of course, my page on the Admission's website. I'm really close to earning my next digital metal, so even though it's the same exact content, every view still counts!
@rachel_crack
✨ Twitter・Instagram ・Snapchat ✨