For this week's post, I wanted to switch it up and give my readers a different point of view. My experience as a Hawkeye has been super great, but there are just some things that I have little to no experience with and figured I'd find someone to give insight on any unanswered questions. I didn't have to go too far and just asked my roommate about her own experiences with things like changing your major, joining a sorority, and learning another language- all things that I haven't really experienced in my time at Iowa.  So without further adieu, here's Celia!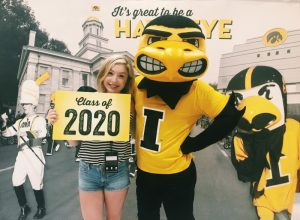 Class: Freshman, 2020
Major: Double major in French and International Relations
Minor: Translation in a Global context
What's your favorite part about living on campus?
The best thing about living on campus is probably having the ability to walk literally everywhere, especially to my job downtown. Also, our room is really cute and cozy. It was so much fun planning out our room and whenever I get back from classes or work I feel so happy to live in such an adorable place.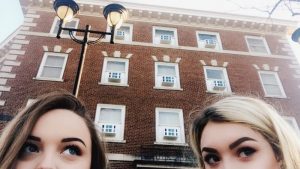 Our hall, Currier, is also super great because it's got really nice, quiet study spaces and even a fitness center. Currier is also the oldest dorm on campus so it feels really homey. My grandma lived here back when the hall was just for girls and I think that's really cool too.
What is your favorite place to eat on campus?
The food truck! The food there, in general, is just so much better than the dining hall because they make it fresh for you right there. I have the black meal plan so I use my flex meals to get this food, and I would highly recommend it to anyone. The truck is always outside but even when it's extremely cold, it's worth the wait. I usually get the chicken sandwich and I swear, I could get lost in the sauce. My boyfriend and I get lunch together here all the time and eat inside Pappajohn business building when it's cold. I can't wait until it gets nice enough outside so we can sit at the picnic tables behind the truck.
Do you like your class schedule this semester?
I like my class schedule. I was in an off cycle course for Introduction to International studies and when I started that class, I decided that I officially wanted to switch my major from International relations to International Studies. I ended up dropping my class for international relations because it was boring and I didn't see the point of taking it if it wasn't a part of my major anymore. I used to think that dropping classes was looked down upon and would make you look bad on your transcript, but it's not like that at all. It's completely normal to drop classes, so don't feel weird about doing it if you're not enjoying a class and/or it's no longer relevant to your major.
I'm also in Elementary Italian 2, which is easy for me because I already speak French and I've made a really a good friend in the class too so it's a pretty enjoyable course. This is my first time learning Italian and I chose to take it because I want to be able to speak French, Italian, and Spanish eventually. I figured Italian would be a good transition into Spanish because honestly, Spanish is a language that really intimidates me. My high school's curriculum for it was rigorous and all of my friends taking it would constantly complain about how difficult it was.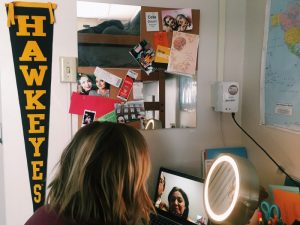 My other classes are French Speaking Cultures, Rhetoric, and a couple of off-cycle classes that haven't started yet. Rhetoric is fine. My professor is pretty funny but I don't really like analyzing texts and writing speeches, so it's definitely not my favorite class but it's a required gen-ed so I'm just gonna push through.
Since I took 3 and a half years of French in high school and studied abroad for 6 months before coming to college, and I'm pretty fluent. French Speaking Cultures is a 3000 level French class and the material focuses on the cultures of countries that speak the language besides French. Every now and then I'll FaceTime my host family from when I lived there so that I can catch up with them and practice my speaking skills!
Are you involved in anything outside of your academics?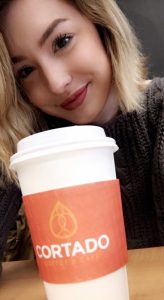 This semester, I got a job at a new coffee shop and cafe called Cortado. You might've seen it in Rachel's previous blog post and I love working there so much! My boss is super cool, my coworkers are nice, and now I know a lot more about coffee because everyone was so willing to teach me.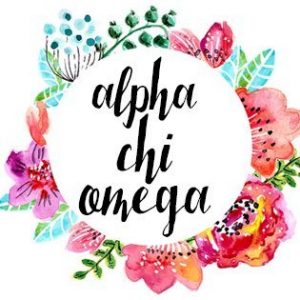 I also decided I wanted to join a sorority this semester. I really did not want to go through the formal recruitment process after hearing about how intense it is, so informal second semester was perfect for me. Going into it, I already knew that I was really interested in Alpha Chi Omega and they happened to be participating in informal so I took the initiative and emailed their VP of recruitment to get more information. She emailed me back right away and told me that they were having an informal recruitment event, so I attended that and there, they showed us the house, I got to talk with a lot of the girls, got to learn about their philanthropy, volunteer work, and what they do for sisterhood. It was all very overwhelming, even for being a process that was supposed to be simpler than formal recruitment but I'm so glad that I did it because after learning more about them, I found myself loving this group even more than I thought I would. I ended up receiving a bid from ΑΧΩ earlier this week and I'm so excited to become a part of this sisterhood!
After living in a dorm room for a little over 6 months, what's it like living with your roommate? 😉 🙂 🙂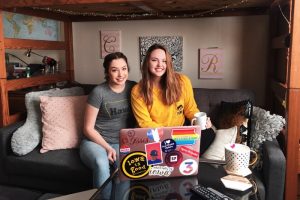 I love living with my roommate!! She's awesome and it's always a party in S216. We've never had a single fight or argument and it's always super chill. Except, I find myself falling asleep with the lights on every once in a while because her sleep schedule is never consistent but I honestly couldn't care less cause that doesn't really affect my life. We're both really into makeup and have a very similar sense of style so we're always sharing and just generally have a great time with one another.
As always, thanks for reading! Make sure to check out my personal blog and other social media accounts if you'd like 🙂
@rachel_crack
✨ Twitter・Instagram ・Snapchat ✨