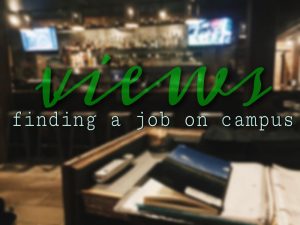 I know, it's been a while. I've honestly had a really hard time pushing through this semester ever since I got back from Spring Break and all of my procrastination has left me feeling super behind in all of my classes. There really isn't a time where I feel completely on top of everything and I'm constantly overwhelmed with work to do. I am taking one more class than last semester so the workload is a bit heavier, but I know everything will (eventually) be okay. However, I still felt like there was something missing.
I had been meaning to get a job at school since the beginning of second semester, then at the end of February, I finally scored one! For those who didn't already know, I'm now a hostess at Northside Bistro in Iowa City. It's a cute restaurant just a few blocks down from the Pappajohn Business Building on market street, and it has such a great location for students who are only able to walk to work. Before I get ahead of myself, below you'll read about my experience when applying along with a few helpful tips for landing your perfect job on campus.
1. Figure out what YOU want
When looking for a job, I had to first consider what would work best for me. I knew before I even started school that I wanted to work on campus, but I didn't feel quite ready to start working right away first semester. So, I decided to take all of my first half of freshman year to just focus on academics and get acquainted in Iowa City.
This went pretty well for me most of the time, however, I must admit that I'm quite an avid shopper and having absolutely no income for six months was pretty hard for me. Now, I wouldn't go spending like crazy or anything because I like to believe that I'm pretty good at managing my money, but it was a little bit of an adjustment to be seeing my savings dwindle instead of growing.
Before coming to college, I had been employed since I was 15 years old. I was saving up just about half of every paycheck I made in those four years to help fund myself whenever I'd go off to college. I knew that this money would be mostly for me (shopping, going out to eat, buying toiletries/necessities, recreation, etc.) and maybe a few textbooks here and there, but I had never touched it that whole time. After saving all of it for over four years it just felt so weird to use it, even though I was spending my money here on exactly what I was planning to be spending it on.
Around November, I was over it. I needed income and I needed to start saving up money again. I thought I had a job lined up to be a hostess at Graze downtown because my dad knows their owner, but the management never got back to me even after contacting them multiple times over the course of two months.
My whole plan was to have a job set up before second semester began, so it really sucked to feel so unsure about having/not having a position at Graze. They strung me along for two months when I could've been applying to other places. It was now January and just as I was about to give up, I dropped my phone into a bowl of water.
Yeah, I know, pretty unfortunate. However, on my angsty, rage-filled walk over to Johnny's Market to get rice to soak my phone in, "NOW HIRING: Host" caught my eye. The front door was locked, but it was only about 30 minutes before the sign said they were closed. If I hadn't dropped my phone in water, I probably would've never walked past that hiring sign, and I was so upset with what had just happened and just generally fed up with the fact that I didn't have a job yet that I went to the back door and knocked until someone came over to give me an application.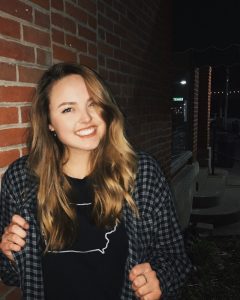 By the end of February, I had the job! I had to make a few arrangements in order to keep it since I'm living at home over the summer, but so far, it's been super great. I plan on becoming a waitress eventually, but I know that won't happen until after summer. I'm completely okay with it though because although I have four years of experience at a restaurant, I've never been strictly a Hostess before so it's a great learning experience for me.
The restaurant itself is super cool, too. Northside's whole theme is "Iowa-inspired" so every aspect of the restaurant is focused on being local. Besides simply being a local business, the furniture is all mostly made from repurposed wood from an old barn, and they're pushing for 80% of the menu to be made with ingredients from local farms in eastern Iowa. I didn't know this before applying, but being the huge supporter of local businesses that I am, I found this really impressive and it was right then that I knew Northside Bistro was going to be the perfect fit for me.
2. Experience is Key
Once you have a clear idea of what kind of job you want to have on campus, try to work toward getting at least some experience before applying. If you know you want to work at one of the various retail stores in Iowa City or even the Campus stores, try to get a summer job in retail at the mall. If you want to work at a coffee shop here, try to get some experience at a local cafe in your hometown, and so on and so forth. By just having experience working for a summer, you'll increase your chances significantly of getting the job you want while you're at school. I'm sure a lot of kids come here and apply with no experience so when you walk in having at least 2 months of it, you're putting yourself that much closer to getting hired.
Thanks to the job I had in high school, I have a little over four years of experience in the restaurant industry and that made me feel really confident applying to places here. From the time I was 14, I knew that I wanted to be a waitress for the majority of my young-adulthood so I started working toward that right away. I'm not saying that everyone needs four years of experience to get a job, but I will admit that it's pretty impressive to employers and basically guarantees you a position wherever you apply.
3. Plan Ahead
Since I knew I wanted to be employed second semester, I decided to plan my class schedule around a potential work schedule. I tried to leave my evenings as free as possible. Besides choir, (which inevitably gets out at 5:20 on Tuesdays and Thursdays) the latest class I have gets out at 3:20, allowing me just enough time to get to work by 4:30 every other day. My weekends, including Fridays, are completely free so I knew that this would get me even more brownie points in an interview seeing as a restaurant's busiest times happen on the weekends.
Taking the time to hand-craft my class schedule around the specific work schedule of someone who's applying for a job in a restaurant made me feel that much more confident in getting employed. It shows the employer that you've put thought into working there AND if you have fewer conflicts with their typical shifts, it makes their job easier when scheduling.
✨  ✨  ✨  ✨  ✨  ✨  ✨  ✨
These may seem like really basic, obvious tips when applying for jobs on campus (or anywhere), but they're the three main things I gave a lot of consideration when trying to find the perfect job for me. I don't see myself working in restaurants for the rest of my life, but it makes a lot of sense for me right now given my previous experience and because of how much I love the environment in which I'm working!
As always, thank you so much for reading and again, I'm sorry I haven't been blogging as frequently as usual. I've been in a funk, but I'm working toward getting out of it and can't wait to get some more content out for you guys before the school year's over! (Only 5 more weeks, not including finals, but who's counting 😉)
@rachel_crack
✨ Twitter・Instagram ・Snapchat ✨