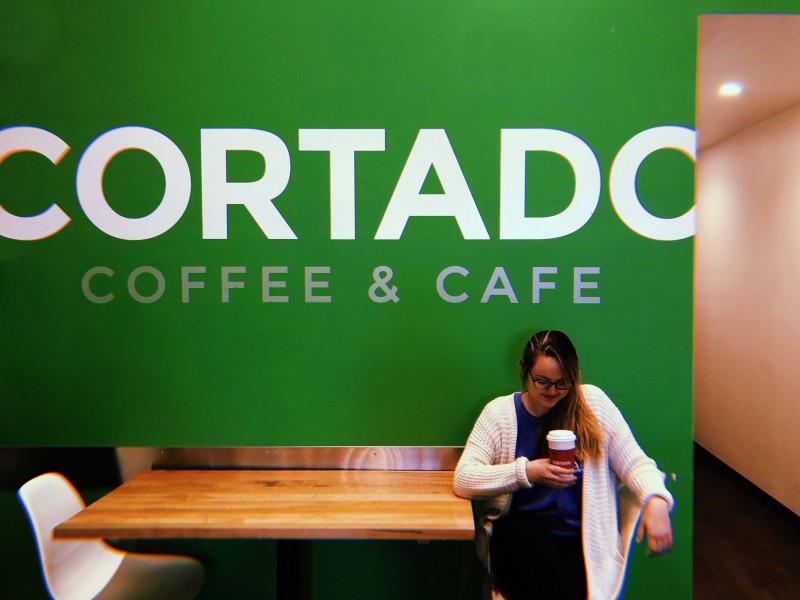 Hey Hawkeyes! Just thought I'd write a quick review of one of my favorite places on campus: Cortado Coffee & Cafe. They opened a little over a year ago and I can confidently say that I'm a regular customer now. This happened mostly because of my efforts to visit my roommate and hang out with her just about every day that she's working (love you, Celia). However, there are obviously other things Cortado has to offer that have made me a loyal customer.
Atmosphere
Cortado's decor, layout, and overall design are very open which is certainly refreshing. It's huge windows that face the Pentacrest bring in an abundance of natural light, and I love the white brick walls. Local art is put on display on the wall behind the main counter and I'm pretty sure they'll put anyone's art up there if you just ask! I love that the coffee wakes me up in the morning and that the space in which I drink it does, too ☀ Pro-tip: As a part of their initiative to limit screen use in-store, Cortado doesn't offer wifi to their customers. The Airliner next door, however, does 😉 If you've got their wifi, then you're basically set.
Coffee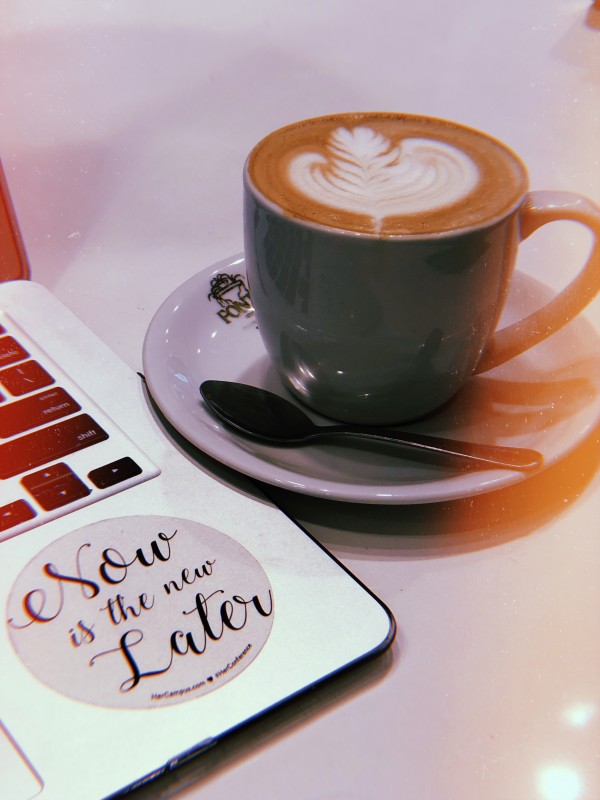 Speaking of coffee, let's get to my favorite drinks. My go-to, ride-or-die hot drink would 100% be Cortado's Mochaccino. Its chocolate flavor comes from a house-made chocolate ganache,  and when I really need to wake up, I get a double of this. Its so tasty and the coffee really gets me going.
On those iced-coffee-mornings, I order a cold brew with vanilla flavoring and soy milk. I can already tell that I'll be ordering it more often as the weather gets warmer (*if the weather gets warmer).
Breakfast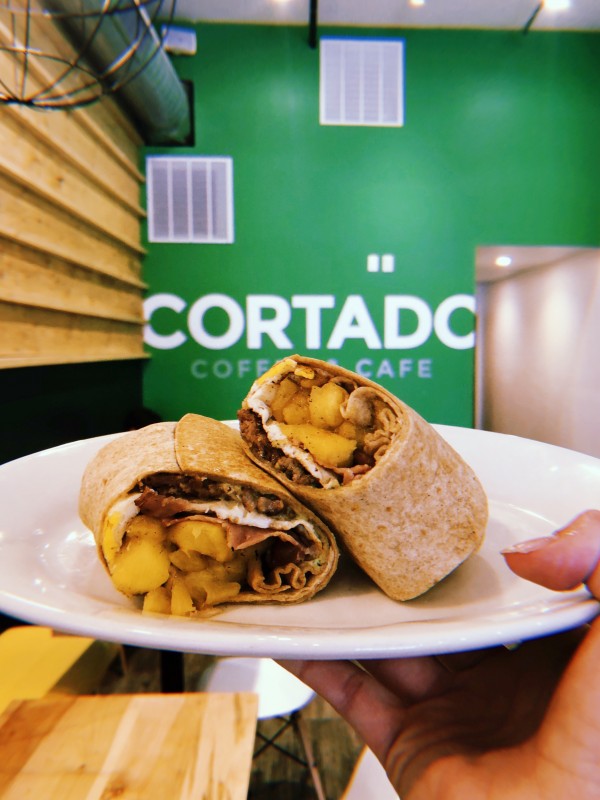 I typically don't prepare breakfast for myself in the mornings so when I do make it over to Cortado for a cup of coffee in the morning, I can't help but order food, too. Everything on the menu, including the breakfast items, is pretty nutritious so I always know I'm going to get a solid meal when ordering food here. My go-to is the Ultimate Wrap (think: a typical breakfast burrito) but recently, I've become a huge fan of the Hawaiian Wrap pictured to the left. This one's just so tasty. The pepper sausage and grilled pineapple wake my taste buds up in the best, sweet and savory way
Lunch
If Celia's working a later shift, I'll go in to get a bite to eat sometimes, too. Most of the time I'm there and want to order something to eat, I'm in the mood for breakfast food (which you can order anytime!!). But on those occasions where I want something other than breakfast food, I'll get the Grilled Halumi Cheese sandwich. Basically, its the cutest, fanciest little grilled cheese I've ever had. The Turkey sandwich is also up there on my tastiest-sandwich list. I love its caramelized onion jam 🤤
Pastries
Don't even get me STARTED on the chocolate chip cookies. They are, hands-down, the chunkiest, chocolatey-ist, overall tastiest cookies I have ever eaten. Just writing about them makes my mouth water. One time Celia gave me a taste of it as cookie dough and truly had no words. I will, with no shame, eat one as breakfast sometimes. There are certainly healthier options but whatever. The heart wants what the heart wants. The healthier options I would go for otherwise on the pastry menu would be the vegan banana nut muffins. The chocolate and banana just compliment each other so well. Every single pastry is made fresh every morning which adds to their overall quality and flavor.
    *     *     *     *     *     *
As always, thanks for reading! I'm so excited that this school year is wrapping up, I've got a lot of fun things planned for the summer. If you want to see more frequent updates of my life on campus and in Iowa City, feel free to follow my social media accounts!
@rachel_crack
Twitter・Instagram ・Snapchat