One of the most grown-up things I did in college as a freshman happened around this time last year; I signed a lease. I can vividly remember how great it felt to have the newfound freedom of not "living under my parent's roof" when I was adjusting to life in the dorms.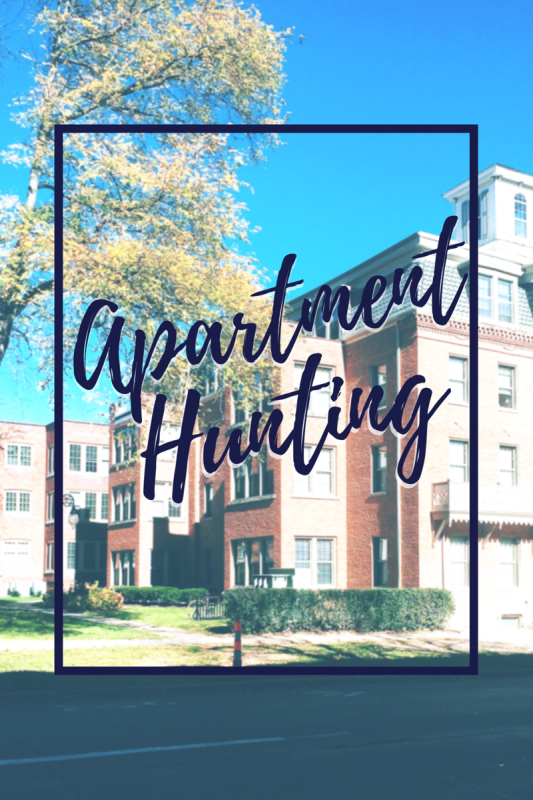 However, even there you have an RA who is specifically there to guide and look after you in most cases. So just the idea of living in a place with even more freedom than what I was experiencing seemed too good to be true.
Towards the end of high school I'd constantly be fantasizing about what my future apartment would look like, even if I was thinking two years ahead of myself. I made Pinterest boards, watched HGTV way more than usual, and was constantly curious to know what my place would look like one day. I really did put a lot of thought into planning my apartment now and am very happy with the outcome, but I remember feeling like this was so far into the future when I was living in that dorm last year.
I went through and learned a lot in the process of getting "my own" place and I want to make sure all of you consider these three things when looking for your first apartment on campus this leasing season.
Be proactive
There's nothing I hate more than the feeling of missing out on a great opportunity. When it comes to apartment hunting, you want to get this done quick. My roommate, Celia, and I had already found our current apartment around this time last year and ended up signing a lease at the beginning of October. When we were apartment hunting, our current building only had two units left. Decent places and their availability go quickly, and if you already have something in mind, I'd jump on it ASAP.
Know what you want
There really wasn't a specific time Celia and I sat down to talk about what we wanted in our ideal apartment. Most of the major decisions were made by our parents who would eventually be the one's really paying for the place. However, it did help to have a mutual agreement on having a location that was really close to campus. If location is a major priority for you too, then I would especially be proactive because these places are already rarely available and will certainly go quick.
After picking which building we wanted, we had to choose between two units and ultimately picked our place based on it's location within our building. We were given the choice of a unit on the 2nd floor and one on the 4th. Each one had it's pros and cons, but we ended up selecting the 2nd floor unit because our place doesn't have an elevator. We dreaded the mere thought of moving all of our things (specifically mattresses, the futon, and other big pieces of furniture) up four flights of stairs.
A huge requirement for a place was also through an agency that had separate leases per tenant. We started the process looking at places through one agency, and eventually had to switch because in all of their properties, only one tenant was responsible for the lease. That would mean that one of us would have to pay for the rent all by ourselves and make sure we collected money from each roommate instead of just splitting it.
Having separate leases makes it much easier on tenants in situations, for example, where one roommate can no longer live in the building. This happened to us and even though we were upset that our third roommate decided to transfer schools, we were relieved to know that we weren't responsible for finding a new roommate or paying for the empty room.
Price is also essential to knowing what you want. Discussing budget with your parents is important, especially if they're the ones paying every month. Price varies from place to place depending on location, size, and the quality of the space. Obviously newly renovated places will have a higher price tag, and usually the fewer bedrooms there are, the more expensive it is. This is why Celia and I knew we needed to have a third roommate because the places  we looked at with 2 bedrooms at were a a good amount more expensive than the 3 bedrooms.
Plan ahead
In the last year, I've had too many moments of over-thinking the decorations in my apartment. Some
might find this unnecessary but I loved every minute of it, and it became a huge hobby of mine in the summer. As soon as I got a floor plan of the apartment, I went to this 3D interior design website to get a good sense of what the place was actually going to look like. Even though we did take a tour of our building before making the final decision, we were in and out of both units in less than 10 minutes. Both were significantly trashed and poorly furnished (pieces that were too big for the space) so we didn't get a good sense of how big the apartment actually was.
Knowing how big our space would be was important to us because we wanted to make sure we could fit a desk and a full-sized bed in every room. Planning ahead and knowing the floorpan well allowed me to be 100% certain that our furniture fit, which would ultimately make move-in much easier on us.
Like I said, a huge part of the planning process led me to picking out and refurbishing furniture this summer. We didn't meet our third roommate until moving in and Celia was in Africa all summer so I felt some kind of obligation to do most of the decorating for the place. I kept with the same color scheme we had from our dorm last year to make it easy on ourselves for the shared space and I love how it turned out.
I made sure to include space-saving furniture like this kitchen table/cart, and had to add unique stylish pieces to make it feel more like home. The blanket ladder lit by twinkle lights by the TV was bought at the same Iowa City antique store that we got our sleek glass coffee table from and the canvas above our futon is an original piece by one of Celia and I's high school friends Christian D'Cruz (he's got some pretty awesome stuff). I can't forget to mention our lil big guy, Shaquille: The Plant of Steel and this hedgehog dish towel I gave to Celia as a fun little housewarming gift.
If you're apartment hunting this Fall and as excited, anxious and impatient as I was, don't worry, the time will come soon enough! Hopefully I had some helpful tips, but I know that you will find the best place for you.
❊    ❊     ❊    ❊    ❊    ❊    ❊
Thank you so much for reading! Be sure to check out my personal blog below and feel free to follow my various social media accounts to see my experience as a Hawkeye on more of an everyday basis.
https://freshhawk.wordpress.com
@rachel_crack
❊ Twitter・Instagram・Snapchat ❊