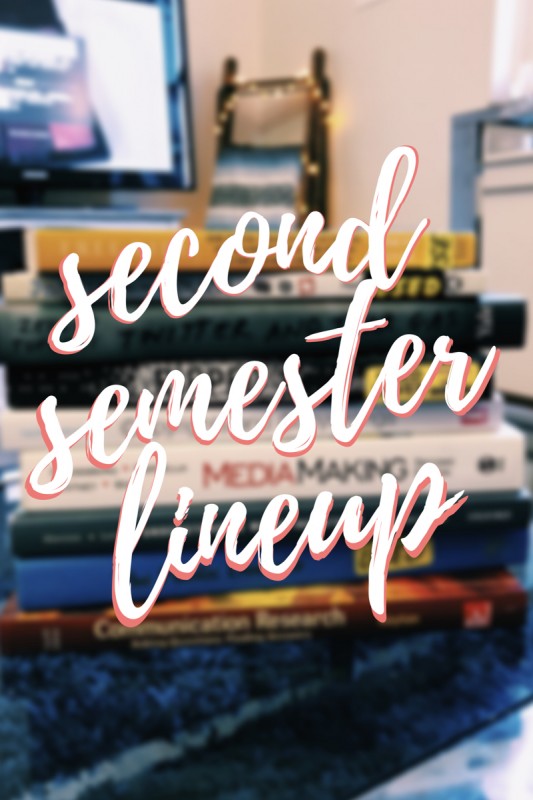 Hey Hawkeyes! To be honest, some of my favorite things about a new semester include planning my class schedule and signing up for new classes. This is the most excited I've been for school so far because I'm finally done with gen-eds! There's a reason I'm in the College of Liberal Arts and Sciences, so never having to take a science or math class ever again is a great feeling. All of my classes are now within my major (Communication Studies) and I've decided to work toward a minor in Journalism, too.
When constructing my schedule a few months ago, I really wanted to try to have my Fridays off. This time last year I didn't have Friday classes and absolutely loved it. If I have the ability to give myself an extra day off school, I will definitely take it and I was so happy to find classes that let me do this again! So this is what my week looks like: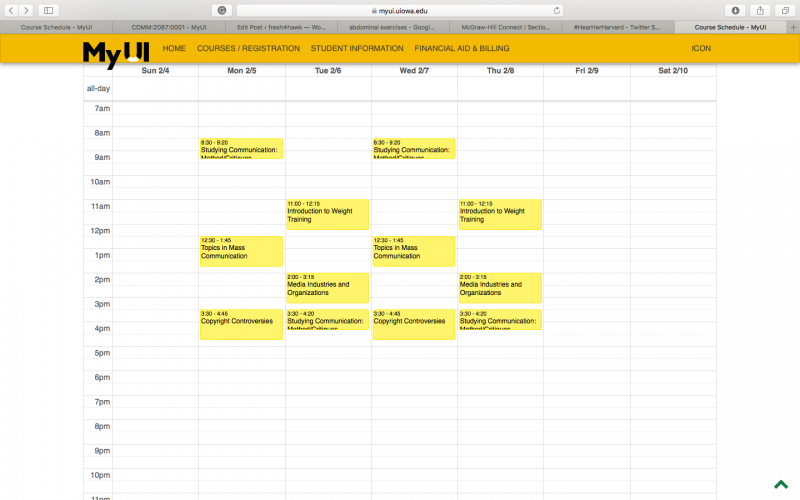 Despite having Fridays off, I did have to sacrifice most of my mornings. I know I'll be showing up to my 8:30 lectures every Monday and Wednesday in my pajamas and am already regretting scheduling a class this early, but its a specific class required to get a degree in my major so I've gotta suck it up.
Since I'm not doing choir this semester, I figured I'd fill that 1-semester-hour time slot with something fun. I took an introductory weightlifting class for two semesters during my senior year of high school and absolutely loved it. The only issue was that I haven't done any lifting since and have forgotten basically everything. I figured this class would be beneficial to my health and help refresh my memory of lifting from two years ago. So far, it's been great! The class is only 6 weeks long and will give me a personalized lifting routine by the time its over. Amazing.
My other classes include Social Media for Social Change (which my roommate and I happened to end up being in together, so that's fun!!), Media Industries and Organizations, and Copyright Controversies. I'm starting to notice and recognize a lot of the same people I've met in previous classes since they're now very major specific. I've also started feeling genuinely interested in every class I'm taking. The readings and homework I've been doing these last week or so don't even feel like work so that's how I know that I've found the right field of study.
✨   ✨   ✨   ✨   ✨
Thank you so much for reading! I know this one was a bit short, but let me know if you have any specific questions about my classes/schedule in the comment section below! Make sure you check out my personal blog and social media for more frequent updates of my life on campus ✨
@rachel_crack
✨ Twitter・Instagram ・Snapchat ✨