Within the past year, I've talked a lot about the student organizations I am a part of. Each of them have added unique experiences and interesting people that I definitely would not have met or experienced had I not participated. Last October, through No Labels, I went to Manchester, New Hampshire for a political forum. This year, I spent two days in Madison, Wisconsin touring businesses with Women in Business.
Women in Business is a Tippie student organization comprised of high achieving women who are looking to navigate the workforce, network, and learn about bettering ourselves. We have close to two hundred members and have biweekly meetings. Every year Women in Business takes two professional trips: one in the fall (a further away, usually out of state), and one in the spring (closer, think Des Moines, Cedar Rapids, etc). The trips are always partially subsidized through membership dues, fundraising, and the funds that WIB has applied for. I have never previously attended a trip however Madison sounded like it would be really fun.
And it really was.
Going to Madison with WIB: $35
Experience of Going to Madison with WIB: priceless
Our trip started at 5:30AM on a Thursday. The 40 some girls to be attending were to arrive at the MacBride Hall bus stop by 5:30 to board our charter bus. I won't lie, it was a little hard to get up for. Many of us brought a pillow and blankets to crash on the bus. I kind of nodded off a bit, but was wide awake by 7AM to eat our breakfast of Hyvee muffins and flip through the snap filters of the towns we went through. We had to get dressed and ready on the bus as we would not be going to our hotel until the evening. We arrived in Verona, a few miles outside Madison, to visit Epic's campus. And their campus was indeed epic.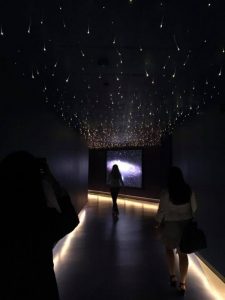 Think of a Facebook or Google-esque campus in the middle of the Wisconsin prairie and you're thinking of Epic. It's made up of about five buildings—all individual themed—and entirely walkable. Epic makes the healthcare system that a lot of doctor offices and hospitals are using for patient records, MyChart, etc. The campus and company culture is very cool (and a casual dress code) and made it harder for any other company to follow up.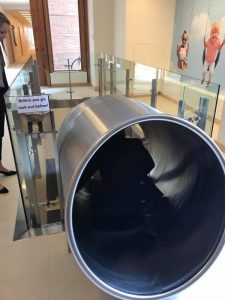 The next company was CUNA mutual, an insurance company. They showed up a bit of their building, a video about the history of CUNA, and held two panels for us. The first panel was comprised of recent graduates and how they transitioned into the workforce after college. The second panel comprised of slightly older women, but they talked about work/life balance and their experiences as women in the workforce (and particularly male dominated workplaces). The panels provided a lot of really great insight.
Our next and final company of the day was in fact the hotel we stayed at: The Edgewater. It recently reopened in 2014 after a historical remodeling. The hotel has been on the edge of Madison since the 1940s. The GM/COO of the Edgewater took us on a tour of a ballroom, diner, lobby, and a closed off section of the diner. We weren't able to see any of the conference rooms as they were all completely booked out. We then heard from the GM/COO, the special events director, and the assistance special events director: all women, and all hardworking women with different backgrounds. They talked about how they came to the Edgewater and the events that had been put on there.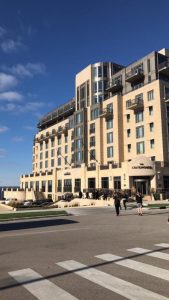 Once that finished, we were all released to check into our rooms and get settled before dinner. I elected to walk around downtown Madison with a few of the other girls and stare in awe at the beautiful (and expansive) capitol building.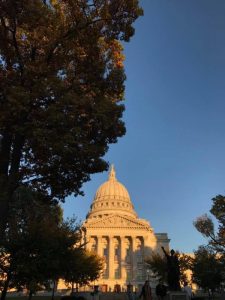 The girls and I later met up with the rest of the WIB girls at Ian's Pizza, owned by the same company that owns Iowa City's Mesa, to have dinner with UW-Madison's WIB group. We got to meet a bunch of their girls over pizza and talk about our different schools and WIB experiences. After that, I hung out with a couple other girls and the Exec that attended the trip in one of their rooms and got to bond with a lot of the other girls who I haven't really gotten the chance to know. I definitely formed some new bonds within WIB during the Madison trip.
Friday was not as early but still relatively early: 8AM bus time. The day started off at Alliant Energy and talking about sustainability. Alliant has installed electric car chargers and solar panels to power their building and they electricity they sell. With the installation of car chargers, they have seen a 1/3 increase in electric car purchases in their employees.
For lunch and the final companies, the group split into two: one group going to ETC lighting (theatre lighting) and the other going to visit with BMO Harris representatives. I was a part of the BMO group and we had lunch with three of their employees at the Madison club. They talked about BMO in Madison and a bit about their Chicago buildings and experiences.
Once that was over, our group went to go pick up the ETC group before heading back to Iowa City. On our way back, we passed five Madison Badger busses that carried their football players, coming to play us the following day. We did heckle them a little bit by knocking on the windows and flashing Iowa blankets and t-shirts. They seemed excited to be recognized until they saw the Iowa blankets. I don't think I've ever seen smiles drop so fast.