The Iowa Admissions blog is dedicated to showing perspectives from around the university. Here, you'll hear from Alaina, a junior from Madison, Wisconsin, involved with Honors at Iowa.
Honors at Iowa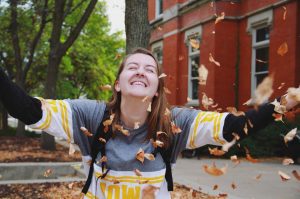 The Honors program at the University of Iowa is something special. It's a big part of what made my first year at Iowa so meaningful, and I've had access to tons of opportunities that I wouldn't have otherwise.
The whole point of the Honors program is to create community among like-minded students who are focused on growing both academically and personally. The great thing about Honors at Iowa is that it is not necessarily more work—it's just more opportunity.
I've been involved in Honors since my first days on campus. I got to move in early for Honors Primetime, which is a four-day workshop centered around your own interests. You even get one semester hour of credit for it! During my Primetime program, we got to write poems and help paint props for a theater show. My favorite part about that experience was getting to move onto campus before anyone else! We had a chance to meet people and get comfortable on campus before classes started.
I lived in Daum my first year, which the only residence hall on campus dedicated exclusively to first-year honors students. I loved being surrounded by other students who cared about academics as much as I did. We had tons of fun, but everyone was also very understanding if I wanted to stay in and study sometimes! The other nice thing about living in Daum is that a lot of your neighbors will be taking the same classes as you, which makes forming study groups super easy.
Daum is connected by skywalk to the Blank Honors Center, which has some great study spaces. I also had my Honors Rhetoric class and my Honors First-Year Seminar there, which was really convenient. An Honors First-Year Seminar is a one-credit class that you basically just take for fun. Mine was about Egyptian hieroglyphs. It didn't add too much to my workload and it was super interesting.
Normally for lecture-style classes, the lecture is taught by the professor and the discussion sections are taught by teaching assistants (TAs). But if you're in the Honors program, you can sign up for the discussion section that is taught by the professor. I really like that option, because it means you have more opportunity to get to know the professor (and maybe get a letter of recommendation for scholarships or grad school!) Some Honors classes might even be smaller than non-honors sections of the same course.
Honors staff offices are also located in the Blank Honors Center. Their doors are literally almost always open and they're so helpful! Honors has both professional, full-time staff and student staff like peer mentors. They're all there to help you get the most out of your experience at Iowa, and make sure you're on the right track to accomplish everything you want to do.
There are also scholarship opportunities available only to Honors students—so if you're considering joining the Honors program, go for it! There are honestly no downsides. You can really make the experience whatever you want it to be, and you'll have a support system the whole way.