Hi everyone!
I know I've been a little absent on these posts for a while, so I thought I'd write a blog describing why! I studied abroad during the Fall 2022 semester in Barcelona, Spain! It was a crazy few months and I want to tell you everything you need to know and what to expect when going abroad!
Program: CIEE Business and Culture
Location: Barcelona, Spain
Accommodation: Host Family
Classes: Advanced Spanish, Politics and Society (taught in Spanish), International Marketing, Catalonia and Spain Through the Arts (taught in Spanish), and Branding and Cultural Icons
Here are some prompting questions to better help me describe my experience:
Were there other students in your program from U-Iowa?
NO! This was actually very difficult to deal with for the first couple of weeks, as I was the only one who didn't know anyone in the program prior to going abroad. Many students from Iowa choose to do this program, but unfortunately, no one else decided to the semester I was there. Everyone in my program was from Elon University…not joking…literally everyone in my program. It's hard to describe how I felt those first couple weeks because you are experiencing so many new things all at once and it was extremely overwhelming to add on top of that not knowing anyone when everyone seems to know everyone else…not the most fun time. But, those Elon kids are some of my favorite people in the whole world. Not knowing anyone in my program forced me to be social and introduce myself to others. When I first got to Barcelona, it felt like a curse that I didn't know anyone because I thought I'd feel alone for the whole semester, but, it actually was a blessing because I needed to learn to go out of my comfort zone and have developed so many lifelong friendships that I couldn't be more excited about.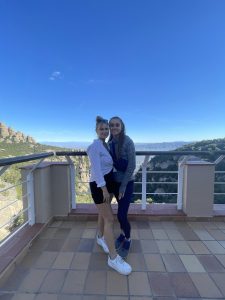 Why did you choose your program and Barcelona?
U-Iowa offers so many study abroad programs that it was overwhelming to choose what program and where I wanted to go. Before beginning the search I knew (1) I wanted to go somewhere where I could speak Spanish, (2) I wanted to be in a big, but safe city, and (3) I needed to take classes for my business degree and Spanish minor. From this information, I then went to this link to do a program search. From the results, I looked at information about CIEE, IES, and USAC and determined that CIEE would be the best institution and from there decided on the Business and Culture program! Now, many of the other students in my program were taking classes at host institutions such as UB (University of Barcelona). I did have the option to do this, but my classes transferred over better if I was a CIEE-only student. So, be sure that this is something you check before going abroad!
Did you get time to travel?
YES! That is one of the best parts of being abroad! I never got any week-long breaks where I could travel, but I was someplace new almost every weekend. CIEE would offer day trips for us every weekend, but also greatly supported our own personal travels, and my host family was awesome and took me on some day trips themselves. My traveling may have been a little excessive the more that I think about it lol…but I wouldn't change anything. Here's a breakdown of my day trips, personal trips, and weekends when I did travel to give you an idea of how often you may want to travel when you go abroad!
Weekend 1: Sitges, Spain (CIEE)…2 days after I got to Barcelona
Weekend 2: Girona + Tossa de Mar + Tarragona, Spain (CIEE)
Weekend 3: Munich, Germany (personal)
Weekend 4: Day trip with my host family to different towns outside of Barcelona
Weekend 5: Vienna, Austria (personal)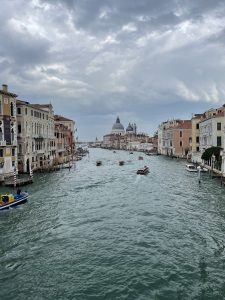 Weekend 6: Rome, Italy (personal)
Weekend 7: Montserrat, Spain (CIEE)
Weekend 8: Venice, Italy (personal)
Week 10: My boyfriend was studying abroad at the same time in Italy and came to Barcelona for his week off
Weekend 10: Madrid, Spain (personal)
Weekend 13: Paris, France (personal)
Weekend 14: Port de la Selva, Spain (weekend trip with a host family)
Weekend 16: Home!
As I said…may have been a bit excessive. Keep in mind that how often you travel is up to YOU. It depends on how long you are there, your budget, and the school policy on travel! I will say though that after week 10, it was so lovely to spend a couple weekends in Barcelona, and go to all the places I wanted to prior to heading back home!
For the sake of not making this blog post too long, I am going to stop here and give you a part 2 soon! Thanks for reading!
¡Adios!
Heather <3