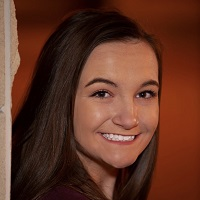 Hello, I'm Kelsey! I am a second-year honors student majoring in Microbiology on the pre-medicine track, and I am very open to picking up some minors before I graduate. I come from the small town of Riverton, Illinois, but now I live in Stanley Residence Hall on the university's campus, and I previously lived in Daum.
The University of Iowa caught my attention because of the amazing pre-medicine program they offer as well as the social environment in and around campus.
You will probably see me around campus studying, and my favorite study spot is the Iowa Memorial Union. Outside of school, I work at Scheels, am a Lime Captain and Family Representative for Dance Marathon, Vice President of Local Service in Alpha Phi Omega, an Honors Fellow, an avid volunteer, and involved in a multitude of other student organizations and programs.