Hey Hawkeyes and Future Hawkeyes! Are you looking for something fun to get involved in on-campus but don't want to commit to weekly meetings or pay membership fees? Look no further and learn about the Campus Activities Board!
The Campus Activities Board, or CAB, is a student-run organization that produces events other students can attend. Events are aimed to engage, cultivate communication, and provide an alcohol-free environment for students to participate in. You can attend as many or as few CAB events as you choose, and they are often first come, first served style events.
I recently attended Succulent Pot Painting and had a blast! There were cookies, stickers, and of course, lots of succulents to choose from. Here is a picture of me and my friend with our painted pots!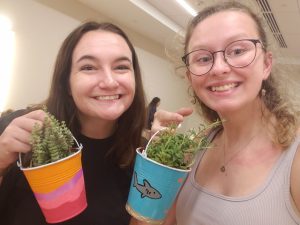 Other events I have attended in the past include Grocery Bingo, Fall-fest, and Breakfast at Night. CAB really does have an event for everyone. Grocery Bingo has been my favorite so far. The event is competitive, and engaging, and comes with the chance of taking some sort of bulk snack or food item home as a prize. Check out what opportunities you may be interested in on their calendar here.
As a student organization, CAB also has great opportunities to be a leader. Leadership members help plan and execute events, help cultivate a safe and engaging community space, and can work towards earning an event planning certificate. If you are interested in CAB leadership, check it out here!