1. The Main Library
You have so many places within the Main Library to study and just chill. Each floor has its positives so let's talk about the 1st floor first.
1st Floor
The 1st floor is the busiest because everyone is running around. It also has some upsides to the floor. If you wanna get something at the café then it's very accessible to everyone. It's right next to the library section of the library itself. You got sandwiches, walking tacos, bagels, pulled pork, soda, and Starbucks. Just make sure you don't waste all your money on Starbucks no matter how aesthetic the drink may be. There are many places you can sit down and just study and chill. Many students also print things off here, I use this as my main place to print things off. The prints are located on the North, East, and South sides of the buildings on the 1st floor.
Now when it comes to studying I like studying in the blue or green sections, but I'll find it anywhere that is open. The main library is always busy during the times of 11 a.m. to 5 p.m. Monday through Thursday. On Fridays, it is tranquil even on the 1st floor mostly because everyone who was leaving for the weekend to go home went home. It's very easy to get through and around the 1st floor because of the way it's set up. The only thing that I can't stress enough is if you wanna study on the 1st floor you better get there in the early morning so you can find a good spot to study and be comfortable for a couple hours at least. Now let's talk about the 2nd floor.
2nd Floor
It's not as crowded as the 1st floor but there are many places to study and chill. There are also printers up there on the North, East, and South sides. I'm not too sure about the West side but I'll do some more exploring soon. It has many places within the book areas to study as well. One of my favorite places to study is being surrounded by books in a little nook of a cubicle area. Another place is if you go to the deeper parts on the South side where one of the printers is located and you can get natural light to help you stay awake. The only bad part about studying in those areas is if the lights turn off. They're motion censored lights so if you like studying with the light then you have to swing a hand every once in a while. I like studying in the darkness so it doesn't bother me that much to be honest. This floor is great if you still want some people around you to be productive but it isn't my favorite floor. Now my favorite floor is the 3rd floor.
3rd Floor
This floor is my favorite if I just need to relax and read. It gives off Harry Potter vibes because of how quiet it is up there. This is one of the only places I can read for fun because I know that I can be focused on this floor. I also love just putting on my chill playlist and coloring in one of my coloring books or on my tablet when I just need to chill. If you guys don't want too many people around then this is the perfect place to study or chill. Most of the time when I'm so exhausted from the day I just like to chill up there to calm my mind down.
2. The Lindquist Center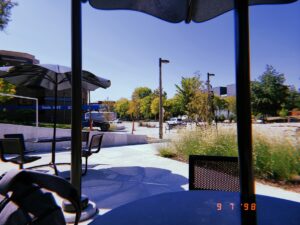 Specifically, I love studying near Devlin Family Cafe in the building itself. This building is right around the main library and it is specifically the college of the education building. I don't have any classes in that building but sometimes I just need to sit and study. The chairs and desk area around the area are very comfortable and easy to stay focused in. There isn't much activity going on around 3 to 5 pm. It's also got this little area of bar chairs that are facing a window so there is natural light to keep you awake and alert to whatever you are doing at that moment. It's almost kinda a hidden gem for study spaces. I didn't even know about it until I had a job I had to do over there. This place is very underrated and if you have time to kill if you're near the Seaman Center or the Main Library then this is the perfect spot for you to go. Anytime I don't want to go to the Library to study I pop over here, plus it's an easy way to avoid the hill. I also enjoy going there during the mornings and the afternoons around 3pm ish mostly almost every class is done.
3. The Seaman Center
Also known as the College of Engineering building. There are many places to study in that building but one of my favorite places is on the second floor right above the stairs to get to the big library area. It's got a lot of natural light that I love going to in the morning because in the evening the sun can get to be very brutal. This spot also helps me focus because most of the people coming in and out of the building are engineering majors. They are normally smart or just love putting themselves into challenging positions. Anyway, it makes me work hard because I have a friend who is a biomedical engineering major and I know how much they have to work for that degree. Sometimes I meet her over there and we study together but for our own classes. It's very much a place where you know that nobody is gonna be screwing around for a long time. Plus if I'm around smarter people it makes me work harder at my studies.
4. The IMU (Iowa Memorial Union)
The place has so many places to study from the ground floor, the first floor, and the second floor. Let's start with the ground floor.
Ground Floor
This is one of my favorite floors to study on mostly because of being able to see so many people go through there. You can mostly see tours, and people visiting the campus. Plus you got Java House and Union Station in your hands. It's very busy through there if you can work in that kind of environment. If I'm just coming from my rhetoric class in the morning and I don't feel like walking up the steps then I go down to the ground floor of the IMU. It's better to get there around the morning time because more seats are open and if you get good seats you can people-watch the people taking tours of the campus. The only downside of the ground floor is that it is very busy and sometimes I go down there to just rest in between classes, especially on Thursdays. This leads me to the 1st floor.
1st Floor
This floor isn't too busy, to be honest. Mostly because there isn't as much activity that passes through this floor. I like to come here to focus on my school work and know that others are getting their work done as well. It's also fun because I've seen most of my friends there and we join in on each other's study sessions. I will say this floor is not the best in my option but it does have the best seats out of all the places I've studied on campus so far. Many of the seats are comfortable but there are not many desk setups on this floor. I'm pretty sure it's because some tours come through there as a hub for starting the tours. I remember when I was visiting the University that not many people were in that space because of all the people around for the tours going on.
2nd Floor
Now I don't have as much experience with this floor but I do know that some of my friends like to study facing the window because of the natural light. Granted the IMU is close to the river but it still gets natural light which wakes me up. That's one of the best things when it comes to this building. It's not very busy through there because of not much activity. That's all I have to say on the 2nd floor.
5. Common Rooms in Residence Halls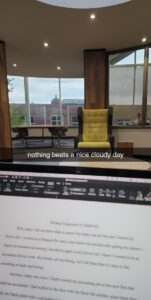 Even though you're not out of the dorm building itself, you're out of the dorm room. If you don't feel like walking to different locations to study, study in your common rooms. Every floor in each residence hall should have one and each residence hall has a big room where everyone is welcome to come. I've studied in my common room many times plus it's a good place to hang out with people on your floor. It's so much fun and I live in Stanley so the third floor is a huge common study space right when you walk in so I always go in there as much as possible. My floor has a common room that is pretty nice as well, I mostly go in there to read because I can't read for fun in my dorm room, no matter how hard I try. Plus it's a good place to pause before going out for class or even going back to your dorm. I do this a lot if I don't want to go back to the dorm room just yet.
Get Out Of The Dorm Room
Trust me when I say that it's easy to get distracted in the dorm room because it is. There are many more places on campus to study but these are my go-to spots at the moment. Getting out of the dorm room and around others who are being productive is some of the best things you can do for yourself. You can go to these study places or you can explore around because these are not the only places to study. You can study in your dorm room but I find it much less successful than studying with friends or even in different places on campus and around campus. Plus if you stay in your room then you're not gonna meet too many people.
Closing Thoughts
Most of these locations have access to natural light which helps me with my studies in more ways than none. If you are thinking about coming to this college then I suggest looking at all of these locations to study or just chill. As I was looking at colleges I was looking at the way their study spaces are set up and the accessibility to all the different locations. It's important to explore the campus and figure out which space helps you focus the most on your work. Thank you all again for taking the time to read my post. I hope you all have a wonderful day, week, month, and year!