Clothes and Shoes
Shoes
First of all, when you're walking around campus you're going to need shoes that you can walk around in and not have your feet hurt. I personally interchange my Converse, Adidas, and Doc Martins. Mostly because they don't make my feet hurt and for me personally I have flat feet. So these are the only shoes I can wear without my feet hurting. But as it gets colder during these next few months that's when I start bringing up my boots. The sage advice I can give you is to make sure you have fashionable shoes that are comfortable. If you have new shoes make sure you test them and make sure you can walk for long periods of time.
Clothes
My fashion game goes up when fall comes around. Mostly because I hate the heat and would much rather live in a place that is always cold. Fall weather makes me happy because of being able to wear sweaters, jeans, leggings, and hats. I love being able to show myself because the heat and I don't get along very well. I mostly interchange between leggings and a hoodie, jeans and a flannel, jeans and a sweater, and leggings and a Halloween or horror t-shirt. For example, I have a big Iowa sweatshirt that I love wearing on cold days. Mostly because it's so big, since I'm 5'5″ the arm sleeves are very long and I can almost put off an Ariana Grande moment in sweatshirts. Now I can't tell you how to dress or what you should wear but this is one of my favorite parts of being able to have a perfect fall season. This is my favorite season of all time and I will always have a fashion game when it comes to this weather and time period.
Plans with Friends
Game Night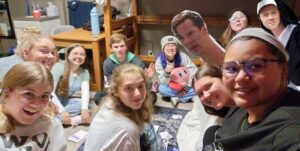 Most of the time my friend group and I plan on having a game night in one of my friend's dorm rooms. She is on the east side and my friend group is a mix of the east and west side. We mostly do these on Friday nights because that's when everyone is kinda done with classes and needs a break from academics. We interchange between games like Cards Against Humanity, For The Girls, We're Not Really Strangers, What Do You Meme, and New Phone Who Dis. We also play this that probably isn't allowed to say but it's about a game that you find the worst in people.
Bachelorette Roast Night
And then there are Friday nights that we head over to the west side and watch the Bachelorette and roast the guys on the show. It's something that I think brings us together as a friend group and it's been great. We haven't done one in a little while so I'm hoping we'll get to do it soon.
Family Dinner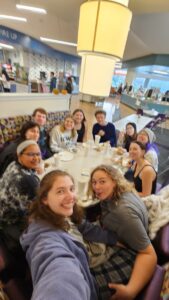 We sometimes like to do this thing where you go out to dinner and just talk about random stuff, to be honest. We go out at least once to twice a month to a nice restaurant around Iowa City and just hang out and eat good food. It sometimes gives a little bit of a break from the dining hall food. Don't get me wrong the dining halls has good food but sometimes it can get repetitive. These dinners give us a chance to talk and just spend time together.
Fun With Friends
I love my friends and I hope they love me back. They give me a reason to stay on campus and they have to be a part of my fall guide. They are great and they make me feel like I'm on top of the world. So I think that you need these great friends to keep yourself sain and happy. They are many of the reasons why I haven't dropped out of college. So having fun with friends is definitely a part of my perfect guide to fall.
Coffee, Tea, and Boba
Coffee
I'm a coffee addict and can't survive without it. So for me, that's one of my things for being a perfect fall. My go-to coffee normally is either a cold brew with oat milk. That's my normal order throughout all the seasons and throughout the year. When fall comes around I start moving to warmer drinks. Another go-to drink is either an iced or hot chai latte with oat milk. Chai is my go-to for most coffee places because it can keep me waking or because I like the taste. I also like to drink a hot mocha with soy milk as well when it gets colder. As I'm writing this post I'm drinking a hot chai latte with oat milk because it's one of the colder days. I'd normally get iced but since it's cold I wanted to be warmer. This is one of my favorite things about fall so this has to be a part of my fall guide.
Tea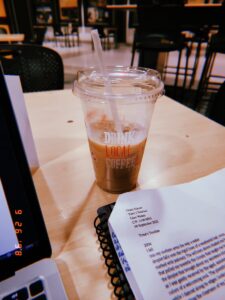 I like drinking tea mostly at night near the end of the day. My go-to tea is blueberry tea with honest, raspberry, and blueberry syrup. I drink it at night before I go to bed sometimes. I make my tea homemade because some places don't have blueberry tea and it saves me money to make it easy and at home. This normally happens when I'm watching a movie or a tv show I love to watch. This for sure has to be a part of my fall guide because hot tea curled up and watching a movie sounds wonderful
Boba
I love boba as well too. I interchange oolong tea with rose petals and passion fruit with either strawberry or lychee popping boba and jasmine green tea with passion fruit with honey pearl tapioca and lychee jelly. I love getting boba to treat myself because it is a very foreign thing that isn't really around the campus. It's downtown and a little bit off campus so it's only a treat every once in a while. I love going there and just relaxing with people around and having something fun to drink. If you guys don't know what boba is, it's pretty much a tea that you can get with these little balls in the bottom of your drink. You can get milk tea, fruit tea, and smoothies. There are different types of boba that people sometimes like to put into their drinks. Now I would describe it but anybody who works at a boba shop does a better job of explaining it than I do. This is one thing that I know needed to be on my fall guide.
Fall Activities
Pumpkin Patch
My friend group and I are planning on going to a pumpkin patch soon I've been to my fair share of pumpkin patches and they are so much fun. I just love walking through the pumpkins and picking the perfect one for me. We're planning on going in the near future but I'll tell you a little bit more about my experience with all my other visits.
Haunted Houses
I love scary things and I love haunted houses the most out of all the seasons. My friends and I are planning on going to Scream Acres in Atkin, IA. One of my friends loves scary things and has decided that I will lead while she will go in the back to protect everyone. I think it will be a lot of fun and it will bring us closer together.
Movie Marathons
Specifically, Halloween movies because fall brings my favorite holiday. I love watching the classics like Halloween Town, Hocus Pocus, Nightmare on Elm Street, and much more. I started kinda early because I knew I needed to welcome in fall and Halloween time with welcoming arms.
Closing Thoughts
Fall is my favorite season and with that comes hot tea, sweater weather, Halloween, and more. These are just some of my favorite things to make my fall the perfect time for me. You don't need all of these to have a good time but I know it might help you a lot. So this ends my perfect guide to fall. I hope you guys have an amazing day, week, month, and year! You got this guys!