My Coffee Order
At most coffee shops I can get a cold brew, a chai latte, or an americano. These are my go-to's because of allergies to dairy. I order my cold brew with vanilla and oat milk, my chai latte with oat or soy milk, and my americano with vanilla and a splash of oat or almond milk. Sometimes I'll do a hot chai latte but that's only if it's really cold outside. I love coffee which is way a frequent in these places but not every day because I am a college kid.
Prairie Lights (Books and Cafe)
Prairie Lights is a cafe and bookstore. The great part about this cafe is that there is a bookstore right underneath it. They have it laid out very nicely which is nice when you're trying to find what you're looking for. I like to come here to listen to classical music and admire the view of the street. One of the things I like getting is an iced chai latte with oat milk. That is the one thing that I can do mostly because I can drink it at any time during the day. Prairie Lights is open from 10:00 a.m. to 7:00 p.m. during the week while it closes early on the weekend at 6:00 pm. This is a great place to study and focus if you like classical music and being able to drink your drink from a glass or a mug. Plus after you're done working you can walk around the bookstore and look for books to read or purchase.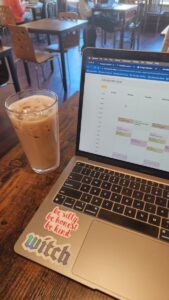 Downtown Java House
The Java House is a local shop that was started in Iowa City and has extended into Illinois and other places. There is one in the Iowa Memorial Union and in Downtown Iowa City. I prefer the Java House downtown more than the one in the IMU, mostly because not many people are in the downtown one. Plus they have a station that has lids and straws that way people can choose the order for here or to-go. I love either sitting in the window or in the back room where there is not much foot traffic. It's quiet and it is a really good place to read if you find one of the comfy chairs around the area. I finished at least 2 books in Java House. If you need to work or read try going to the Java House in downtown Iowa City. The other thing I want to say is that it can be busy in the morning because some of the other coffee shops aren't open but it's okay. It's got a good vibe and I always love being here.
Teamo Tea
Now, this is a boba shop that is in downtown Iowa City. It's right next to Target and even though it doesn't have coffee, it is a cafe. This is also 1 of 2 boba shops in Iowa City, the other one is named La Tea. As of right now, I haven't tried La Tea but they are both very nice places to study and just hang out. My go-to order from Teamo Tea is a Jasmine Green Tea with Passion Fruit, Honey Pearls, and Lychee Jelly. It is a very confusing taste and texture because the pearls and the jelly are chewy and when drinking tea some people don't want to feel very confused when drinking something like that. It's not for everyone but it's very good. Something that I also like to get is an Oolong Tea with Rose Petals, Passion Fruit, Strawberry Popping, and Strawberry Jelly. Again people might just like the popping boba because it pops in your mouth with the flavor in your mouth. I like to do there if I need to watch something for one of my classes or just to watch something that is fun. Boba is a treat for me and coffee is essential for me to survive. I'd say that if you don't know what to get at this shop I'd say go with a smoothie or slushie with no toppings. I started out as just drinking items that had popping boba and moved on to the more challenging items. I love teamo tea and if you don't like coffee then this is a good place to go.
Tru Coffee
This shop is kinda off of the downtown strip. It's a very good coffee shop that also sells clothes. It's very sweet and cute when you need to just study. It's just like Prairie Lights where you can drink your drink in a glass when sitting down or have it in a to-go cup when you don't want to sit down. This is probably the best chai I have had mostly because you can really taste the cinnamon. This place probably has the best lighting because they have a lot of natural lighting. They also have clothes that are vintage I'm pretty sure because I follow their Instagram a lot. I'll more than go to Tru Coffee during the days I don't have afternoon classes which will be nice. They close in the early evening which is around 4pm. It's okay, to be honest, plus there local from what I can tell. Their iced coffee with vanilla is not too sweet which is sometimes what I love. Fun fact one of my friends that don't like the taste of coffee really likes the macchiatos that they have here. They were out of chai this day but I didn't mind, they had different options to choose from which was nice. Other than that it's a very cute place and kinda a hidden gem of the coffee shops in Iowa City. Come to this place you won't regret it.
Cortado Mediterranean Cafe
Cortado's is right downtown and they have all-natural drinks. Their coffee is made with non-burnt coffee beans, making it taste even better. This is also another place you can choose to sit down or take your drink to go. Their hot chai lattes are to die and if you go to any of these coffee shops in Iowa City GO TO THIS ONE!!! It's so good, and it's very close to campus, it's right near Panchos so that's nice. I will say that it can be hard to find seating because of how packed it can be in there so just be careful of that. Plus I'm pretty sure that they have breakfast foods and food for lunch. Plus the food is organic or something like that. The meal is limited to what I can eat because of my allergies but I only need coffee and tea to survive in a cafe. Most of the time it's very busy because everyone tries to get a spot to sit down. Most of the time it's impossible to find a place to sit, that's why I usually go in the morning rather than in the afternoon. Unfortunately, I don't have any pictures of the cafe but if you ever visit Iowa City it's close to the Airliner on the downtown strip near the Pentacrest.
Starbucks
Of course, I had to throw Starbucks into the mess because it's a phenomenon of coffee all around. The one downtown is one of the hardest places to try and find a place to study. That's why I don't normally go in here, mostly because people love being in there. I don't think this is a good place for me to study because there is a lot of foot traffic when it comes to people going in and out of that place. This one that's downtown is close to the Voxmen music building and the unimpaired dry bar. The vibe is very nice in there but people are going in and out like wildfire so it messes with me and my ADHD. I don't think that this is a good spot to study if you like quiet study spaces, but their coffee, most of the time, is very good. I'm not going to put a picture of it because this place already gets enough advertising by people taking pictures of their drinks.
Closing Thoughts
There are so many more coffee shops around Iowa City like The High Ground Cafe, DayDrink, Encounter Cafe, and so many more. Sometimes I don't have the money in order to go to them all the time, but I suggest going to a coffee shop at least once a week, maybe twice. I love studying in cafes mostly because it gives a different environment to students being on campus but being surrounded by students and professionals working on whatever they were working on. If I can give you guys anything in return I'll tell you to go to Prairie Lights, if you like classical music, Cortado's if you like freshly made coffee, Java House if you like fun drinks, Tru Coffee if you like natural lighting and Teamo Tea if you don't like coffee. Thank you future hawkeyes for taking the time to read my post I appreciate you all so much. I hope you all have a great day, week, month, and year. Just only go to Starbucks for the drinks and not for the study vibe.