March Madness
From the title you'd probably assume this post will be about basketball. Well, surprise! You're wrong. This is going to be all about my own personal march madness.
First let's start off with spring break! Something every student looks forward to. While most people had home, or someone sunny and full of sand, I did the opposite. I went to Kentucky with two of my friends for some rock climbing! Unlucky for us the night we got there (around 1am I might add) snow was coming down hard. And what made it even better? We were tent camping. Great choice right? Needless to say most nights I could not feel my feet. Luckily I brought my Iowa Snuggie which helped a little bit, but not quite enough at the same time. Unlike Iowa, the Kentucky landscape (at least in Red River Gorge National Park) is not flat. Steep hills were what we were hiking on all week, and since it snowed our first day, those trails were also crazy muddy! Trekking to and from climbing walls and the car was no easy feat. But overall our trip was a huge success. Luckily each day got warmer and warmer. It almost hit 60 degrees on our last day! We also made lots of cool unique meals, and met even cooler people. The climbing community throughout Iowa and the rest of the country is very relaxed. Everyone is so welcoming to anyone, despite the level of your climbing abilities. As long as you have a good spirit, people are more than willing to help you out and offer their support. I'd love to go back to Red River Gorge someday. Despite the weather it was absolutely beautiful.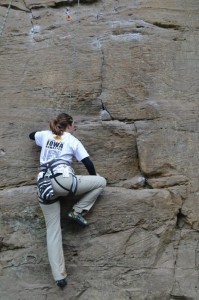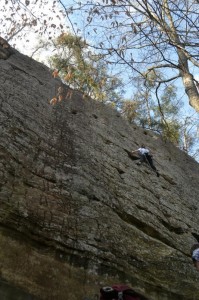 But now on to the school madness…You'd think after getting back from break school would be slightly more relaxed. You'd have all you're tests and papers due before break…..WRONG. I got back and it was an overload of work suddenly hitting me. Since I was in the wilderness all week, needless to say I did not have internet or computer capabilities, so I didn't get ahead with my work like every student should (ideally) do. So now I'm focuses on trying to get all my work in order and get it all done in a timely manner! Writing this blog is my break, so time to get back to work!
Go Hawks!