The four UI Cultural and LGBTQ Resource Centers provide a "Home Away From Home" for many students. Regardless of  sexual orientation, gender, ethnicity, or religion, students find that each center is an open and welcoming space for studying, attending events, or just relaxing and meeting new people!
The mission of each resource center is to provide intra- and cross-cultural education for all students. Functionally, the cultural centers provide ample space, computer access, and additional resource materials and libraries.
They provide welcoming all-inclusive social and meeting rooms, kitchens, and dining areas year-round. Such programs provide all students with a chance to celebrate and stretch themselves to think about local and global topics. They foster an environment for students to connect within their familiar communities and learn about new cultures.
Our current cultural and resource centers include:
In addition to the Cultural and LGBTQ Resource Centers, there are over 50 multicultural student organizations at the University of Iowa that provide programming, service, educational programs, and cultural experiences to the campus community.
I challenge all students to move beyond first impressions and to discover the diversity around them.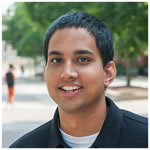 Sauvik Goswami
Senior Counselor, Diversity Outreach
The University of Iowa
Office of Admissions