The Black Box Theatre
Hey there,
When I first arrived at the University of Iowa I knew that I wanted to get involved. I attended the student volunteer fair the second week of classes and stumbled upon TONS of great student organizations and volunteer opportunities. One of them included volunteering at The Black Box Theatre located on the third floor of the IMU, which I LOVE. I conducted an interview with Emily Lennon, a docent and art enthusiast to let you all know more about the new exhibit and the Black Box Theatre.
What is your role within the Black Box Theatre currently?
I am the volunteer co-chair for the University of Iowa Museum of Art Members Council, so I helped train volunteers for the Black Box Theatre's current exhibition, New Forms. I am also a Docent for the museum, so I lead tours for UI classes, visiting students, and other docents. I also volunteer as a Gallery Host most Wednesday afternoons.
Could you tell me a bit about the exhibit currently at the Black Box Theatre?
New Forms is an exhibition based on American Scene and Avante Guarde art movements in America after the Great Depression. This exhibition shows how these two art movements collided in the Midwest, specifically at the University of Iowa. There is a combination of prints, painting, and photography from the Federal Arts Project, New York's Avante Guard movement, and also amazing works of art by UI students and professors of the time, such as Mauricio Lasansky, Phillip Guston, and Grant Wood. It is a great show of American Art during this time period and there is a lot of important artwork and history about the University of Iowa Museum found in this amazing exhibition.
What is your personal favorite work of art in the exhibit?
It is always difficult to choose a favorite, but I do love the collection of prints from the Federal Arts Projects that the University of Iowa was given around 1937. We do not get to see this kind of originality and variety of subject matter or techniques used this often, so it is a real treat to have them on display!
What are ways in which University of Iowa students can get involved with The Black Box Theatre?
Students can get involved with the Black Box Theatre by volunteering or visiting the exhibitions! It is free and open to the public, so this is makes a perfect afternoon out with family and friends. Students who are interested in volunteering for the University of Iowa Museum should contact Kathrine Nixon, kathrine.nixon@gmail.com or Emily Lennon, Emily-Lennon@hotmail.com. There are many ways students can volunteer, so don't hesitate to contact us!
Are there any events coming up that readers should know about?
The UIMA hosts a First Fridays each month at Hotel Vetro. For $5, you can look at original art, listen to local musicians, and enjoy great conversation at these events. Our next First Friday is on December 6th, from 5-7pm. There are also art and art history lectures held often, usually relating to the exhibitions at the Black Box Theatre, so look at the UIMA website for those details. http://uima.uiowa.edu/assets/FALL2013CALENDAROFEVENTS.pdf.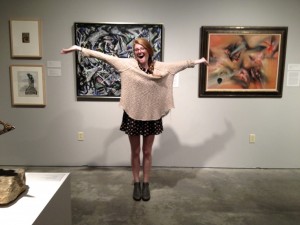 Thus, readers, please check out the Black Box Theatre! It will surely be worth your time.