I have found the first hidden gem the U of Iowa has to offer… Lifetime Leisure Skills (LLS) classes!! Have you ever heard of them? I didn't until I was searching through the course catalog and ran across them. Iowa offers loads of different outdoor rock climbing, orienteering, backpacking, and tons of other areas of outdoor leisure activities as classes! They are typically one credit hour than span over a selected week, where you devote some time to learn more about whatever topic your class is about!
I have a teeny tiny background in rock climbing so I thought I would put my skills to the test and enhance my skills!
The people I met in this class were so cool! It was really fun getting to meet like-minded people who had similar interests that I did. It was also refreshing to get outdoors and have some safe interaction with people I have never met before. I liked the class size because it was more of an intimate experience with only around 12 students and two instructors.
The class started out with a short zoom meeting where we got to meet each other and my instructor, Raud, went over key information and gave a short overview on climbing. We got to learn terminology too which was super cool! The majority of this class took place over a weekend.
On Saturday we all drove out to Centennial Park and learned how to boulder, which is basically climbing on a rock or wall without a rope, but there is a spotter and a crash pad on the floor. This is more of a brain exercise. Bouldering is used to practice the movements, grips, and foot placement you would normally use in climbing. Just not at the extreme heights. We then learned how to safely put on a harness, belay, and tie the correct knots.
Sunday was my favorite day! We all met at Picture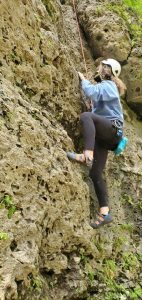 d Rock Park in Monticello, Iowa. We strapped up, went over our safety checks, and began climbing! I felt extremely safe because my instructors Megan and Raud, did an amazing job at triple-checking everyone's equipment. After about four hours of climbing different routes, we packed up and they took us on a hike to see the rest of the park as well as other climbing spots.
That was a shortened version but I hope that you get the idea! The LLS classes offer a safe environment for you to explore new potential passions. I definitely will be taking more LLS classes, and I know I will be continuing to rock climb in the future. I am extremely grateful for this opportunity and I truly will never forget it!