Hey guys!
The first semester is in full swing, and with the beginning of the school year also comes the beginning of fall! As of this week, Iowa City has begun its slow climb into the low 60s and high 50s, and before we know it, that Iowa cold will come rushing in! So, for those of us like myself who absolutely love the autumn weather, this time of year is a sweet point worth savoring.
Besides the change in the leaves, the holidays, and all the pumpkin-flavored treats, I love fall fashion. So much so that last year, I made a bit of a how-to guide on what I thought were some cute outfit essentials as a freshman, and now I thought I'd do another one more catered towards the season! And, yes, this is also an excuse to show you guys mirror pics with my favorite clothes. But I promise, some of the pieces have cool stories, so read on to hear how I found them!
Two Piece Gym Fit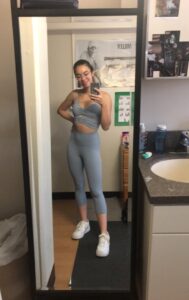 Yes, I know. This can get expensive, but… it's so cute! Especially when you get one in a fun color like the light blue I'm wearing (very Cinderella-esque if you ask me!) It's super cute to wear in classes, for the gym, and just to have in your closet. Fun fact about the set I'm wearing; the leggings are from LuluLemon and the top is from Athletica. I happened to luck out and find the same shades at both stores. What are the odds!?
A Silk Skirt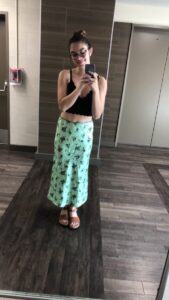 I bought this particular skirt over the summer while thrifting in NYC and instantly fell in love. These kinds of skirts are really in fashion right now, and I think they're incredibly versatile. They pair easily with oversized sweaters or tank tops. They can be casual or formal. It all depends on how you style it! I definitely would recommend buying one, and even better, thrifting it if you can! Mine cost about 15$ which, for New York City sales, is quite a steal!
Oversized Dress Shirts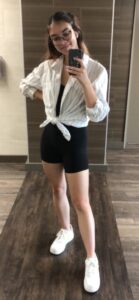 Definitely raid your grandpa, dad, or brother's closet for this one to save some money. Personally, I think that a worn-out dress shirt is way better than a new one; they're just comfier! You can style it with a tank top and it serves as a nice light sweater if you're someone who gets chilly coming in and out of air-conditioned buildings in between your classes!
Neutral Jeans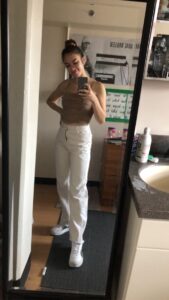 I got these specific jeans at White Rabbit in downtown Iowa City, and I swear on my life, it was the best 50$ I've ever spent. They fit me amazingly and match everything. Yes, it can be a bit of a pain if they get dirty, but they don't shrink in the wash and they stay comfortable even when that freshman 15 creeps in! For me, I definitely suggest branching out from the normal blue jeans and splurging a little to try something new.
A Funky Sweater
Everyone needs a fun sweater and not just an ugly one for Christmas. A crazy-looking sweater can really bring an outfit together (or totally ruin it, but we won't talk about that) but the joy is honestly finding what works with it and what doesn't! You can buy one pretty much anywhere; just look for something eye-catching. I don't have a picture for this one because I honestly have so many and couldn't decide!
White Sneakers (that will get incredibly dirty)
I'm an AirForce and Vans girl until I die, but I will admit, they get dirty quickly. However, they're super comfortable and you'll want shoes that you can walk long distances in that won't hurt your feet. Trust me, this is important! Even if AirForce and Vans aren't your go-to brands, just a trusty pair of shoes will be your best friend throughout your college career.
That's all I have for some outfit essentials! Enjoy spicing up your wardrobe, the nice weather, and all that comes in between!