Hi everyone!
I am T-minus 48 hours before I leave Iowa City and head back home to New York for the summer. I don't know about you guys, but I'm looking forward to a carefree summer with my hometown friends, some free time to write, and a couple summer getaway trips that I plan on taking. But before I do all of that, I'd like to take a look back on my semester and highlight some of my favorite moments from the past couple of months.
Having Purple Hair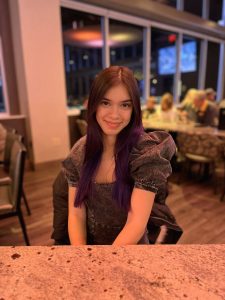 Before this semester began, I decided I wanted to go into the new semester with a brand-new look! It's been a bit of a hassle to maintain over the past couple of months, but I'm excited to go home and try something new. Maybe another color, a clean cut, or some bangs? Who knows?! All I know is that purple hair served me well this semester and it definitely made me stand out during this eventful period of my life.
Silent Disco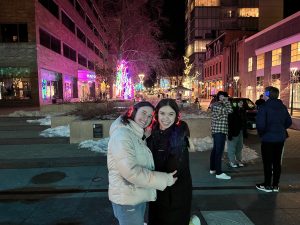 If any of you are on TikTok, you've probably seen Silent Disco as one of the hot new things to do in your 20s. Silent Disco is when you have colorful headphones, and each time you change the color, you get a new station to listen to! During the winter, I found out that Iowa City was hosting a Silent Disco party in the center of their downtown area, and I just knew I had to go! I quickly grabbed two of my best friends, bundled up in my mittens and coat, and danced for two hours in the freezing cold. The music was great, the people were fun, and I would have stayed longer if they didn't have to pack up for the night! This was definitely one of my favorite events of the year and I'm so glad I got to dance around with my friends for fun and for free!
Another Photoshoot (because I love them!)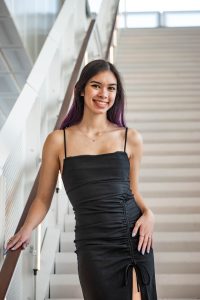 If you read my last post about my top moments from last semester, you might recall my photoshoot with the space buns and the gold dress. This time, I had a photo shoot for my student organization, Walk It Out, and I opted for my natural hair and a black dress that I had. I'm obsessed with how the photos came out, so definitely check out Voxman Music Hall if you need some new photos to spice up your Instagram!
My Chicago Trip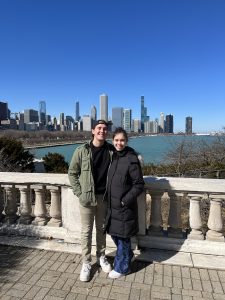 I already did a whole post devoted to this trip with my boyfriend, but I can't help but give it one more shoutout! I'm still reminiscing about the stunning artwork we saw, the shining skyscrapers, and all the mouth-watering food we got to eat on our trip. I'll actually be going back to Chicago for Lollapalooza in August, and I cannot wait to see some of my favorite artists perform in my new favorite city.
Performing for Walk It Out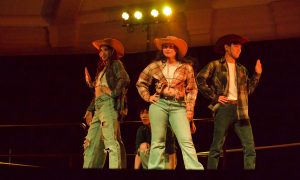 This was another event that I did a whole post on, but rightfully so! My team and I worked endlessly for months on our performance and I'm so, so, sooo proud of their hard work! For those of you who don't know, I was one of the East Asian choreographers for this year's showcase where we put on cultural dances, model-walked traditional wear, and performed on stage. Our theme this year was Multiverse, and my group did a take on the Oscar-winning film, "Everything, Everywhere, All At Once" which was a huge hit!
I really wish I had one more opportunity to perform on stage with my group again, but I'm so lucky to have the memories (and some amazing professional photos!) to remind me of the good times.
Getting My Dream Internship
This bleeds a bit into my summer plans, but for the past month, I've been interviewing with Writers House Literary Agency, and I recently got confirmation that I'd be 1 of 10 interns working for them this summer. Nothing beat getting that call and the excitement of telling my friends and family about how excited I am. I can't wait to get my foot in the door with the publishing industry and see what it's all about with one of the biggest literary agencies in New York City! Wish me luck this summer!
There were countless other moments this semester that stuck out to me and will continue to stick with me as I round out my sophomore year. It's crazy to think that I'm nearly halfway done with college and that I'll be joining the workforce or going to graduate school in just two more years.
But, before all that happens, I'm so lucky to have this summer to focus on my priorities: my writing, my internship, and my loved ones. And then, I'll come back to campus as an official upperclassman!
Thank you, guys, for reading my posts, and enjoy the summer, wherever you may be!