Hi everyone!
I hope September is treating you well! Over here at the University of Iowa, we're well into the swing of things and if they haven't already, classes are starting to steadily pick up as the first month comes to a close. As you can see from the title of this article, I'm still a bit in denial about the end of the summer and need one more time to reminisce about one of the coolest things I've ever done… attending Lollapalooza!
For those of you who don't know what Lollapalooza is, it's a 4-day music festival that takes place in the heart of Chicago. Decked out with six massive stages, hundreds of food vendors, bedazzled outfits, and yes, lots and lots of music to share, Lollapalooza is Chicago's event of the summer with hundreds of thousands of participants each year. Considering it's only a 3-and-a-half-hour drive from Iowa City to Chicago, a lot of Hawkeyes tend to make the trek into the windy city to celebrate their favorite musicians and artists before the school year officially starts.
But before I take you to the actual festival, let me tell you how I bought the tickets on a complete whim!
Back in March, I was sitting with my boyfriend, Riley, in his dorm room and scrolling through Instagram when the official line-up for the festival popped up on my feed. Some of the headliners included Billie Eilish, Kendrick Lamar, and Lana Del Rey, and I nudged my boyfriend to show him. Together, we combed through the rest of the artists and gasped in delight at some of the names we saw. After a while, I joked with him and said, "With this lineup, I'd definitely go to Lollapalooza," and he looked back at me and replied with a smile, "Let's do it then."
A couple weeks later, I found myself in Catlett dining hall, eating pancakes, and hovering over my laptop minutes before the ticket portal opened up. Fifteen minutes later, and I left Catlett with two tickets in tow and a smile from ear to ear.
It was official… I was going to see some of my favorite artists perform all in the span of four days.
Over the course of the next couple of months, Riley and I quickly found an Airbnb, reserved parking, and panicked over our outfits (okay, maybe I was the only one panicking about my outfits), and the next thing I knew, I was flying back to Iowa City and two days after that, heading to Chicago. I had no idea what I was getting into, but I did know that it would be the experience of a lifetime!
Thursday
Riley and I knew pretty early on that it was not physically possible to arrive at the festival every day at noon and leave at 10 p.m. for four days straight. That was just too much on our bodies and I'm glad we saw the importance of rest during those long days.
So, for the first day, we arrived at the festival at around 4:00 p.m., and from there, the first performance we saw was a K-pop girl group called NewJeans. It happened to be the group's official USA debut and they absolutely nailed it on stage! It's been over a month since we've gone, and I still catch Riley listening to their songs because of how catchy they are!
Next, me and Riley decided to skip out on some other artists to check out the food vendors. I ended up getting this rice bowl that I devoured in two seconds flat, and after that, we made our way to the stage where Billie Eilish would be performing. We decided to get there two hours early to get good spots to see her and we quickly found ourselves in the heart of the crowd and an estimated 50 rows from the front of the stage. Pretty good if you ask me!
But before I continue, I have to emphasize something so important for any of you who plan to go to Lollapalooza or any festival in the near future. This festival takes place at the beginning of August with 90-degree weather and stuffy crowds, so things get hot very, very quickly, which is why you need to be hydrated! Always have water on hand and make sure you're eating well. Riley and I knew this going in and ended up being fine the entire festival, but there were so many people who had to leave the crowd because they were getting lightheaded and starting to pass out. It's super scary, so please be careful and take care of yourself!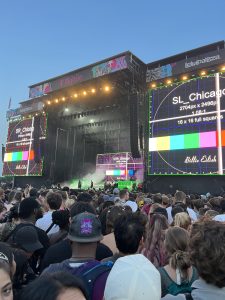 Luckily, Billie came out on time and absolutely killed her performance! It was by far one of the best sets I saw all weekend and she even played her new song, "What Was I Made For" from the Barbie movie! I'm not going to lie that I was literally in tears and would definitely see her in concert again someday.
Overall, Thursday was a great kick-off for the rest of the weekend!
Friday
Riley and I got up super early because Friday was jam-packed with artists we wanted to see.
We arrived at the gates at noon to see Hemlocke Springs, a new indie artist who only has a couple songs out. I was ecstatic when we got front-row seats to her performance, and she announced that she had only ever performed two other times in front of a crowd! Even though she was clearly a bit nervous, she had a great show and was super relatable the whole way through.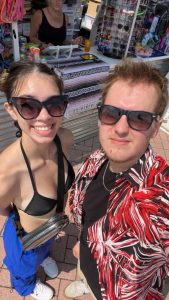 Next, we grabbed some snacks and then headed to the next stage to wait for a group called Peach Pit. Because we got there so early, we were able to get front-row seats for them as well and they had amazing energy. The lead singer even crowd surfed which was so entertaining and hectic to watch, even though they had more laidback music.
Afterwards, Riley and I kept our spots in the front row to wait for Sabrina Carpenter who would be performing at the same stage in an hour. The wait was long, hot, and sweaty, but totally worth it when she came out and started singing her hit song, "Feather." I've been a fan of Sabrina's for a long time, so I was having the time of my life singing her songs and jumping around to the music. Even Riley was surprised by how infectious her stage presence was! She finished her performance way too soon and from there, me and Riley was left to go find a good spot to watch Kendrick Lamar's performance.
Because of Billie's performance the previous day, we knew that we didn't want to be on the ground level, so we decided to find a spot up high where we'd be able to see Kendrick's full performance. Close to his stage was a small hill where we ended up standing with a few other people and held our ground for two hours as we waited for Kendrick to come on.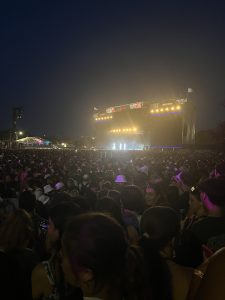 The crowd was packed, shoulder-to-shoulder, and super-hot which made the wait unbearable. I remember being so exhausted and my contact lenses were killing me, but I pushed through it for his performance. In the end, being able to see one of the greatest rappers of all time was the experience of a lifetime along with singing "Money Trees," Humble," and "King Kunta" with a massive crowd of thousands. It was an unforgettable performance, but the best part of the day was getting to go home with McDonald's and finally going to sleep.
Saturday
For the third day, Riley and I didn't have any artists we wanted to see until 4:00 p.m., so we decided to get some much-needed rest and relaxation during the morning. But things took a turn for the worse when we got into the car, ready to get there a bit early to try out some more food places, and Riley's car wouldn't start.
Immediately, I started to panic.
We were in the middle of Chicago, parked on the side of the road, and we still had to go home in two days. The excitement of the festival vanished, and I'm embarrassed to say that I did start crying. This moment was a nice reminder of why I'm dating my boyfriend though, ever the calm to my storm, who calmed me down and made arrangements for the car to be towed to the closest repair shop which, luckily for us, was only three blocks away. The tow truck came in twenty minutes, and they told us they needed an hour to fix it. Even though there was a chance we'd miss the first performer of the day, Suki Waterhouse, I decided that having the car was more important than seeing one of the artists I was most excited to see, so we opted to wait in a nearby coffee shop. By that point, I was just grateful to sit down and have a nice cup of coffee!
But then, I guess fate was on my side because the repair guys ended up fixing the car in fifteen minutes and before we knew it, we were headed back to the festival! We parked, rushed through security, and raced to Suki with only five minutes before she started her set! Looking back on it now, I'm so glad I didn't miss it. She played new music, did a Taylor Swift cover, and nailed her hit songs. Seeing her action was totally worth it.
The next artist we went to see was JID and I'll admit that I was a bit overwhelmed with the large crowd forming. Riley and I had managed to be about five rows from the front of the stage, and this was the first time I had ever been in a moshing crowd waiting for a rapper. It definitely felt different from the crowds I was used to for my own pop and indie artists, and I decided to trust my gut with what I could handle. This was a moment I was really proud of knowing my boundaries and recognizing that it's okay to not be in the very front of the stage to have a great time. So, I decided to let Riley stay in the crowd and I went to our meeting spot to watch the performance from high up.
JID was an incredible performer and while I know for sure I wouldn't have liked the moshing; I was in awe of his stage presence and the flow of his songs. I know Riley also had a great time because when we met up, he was smiling from ear to ear and dripping with sweat with how much jumping around he had been doing.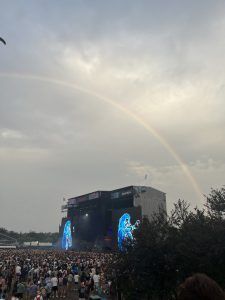 After we met up, Riley and I grabbed dinner and went to see Pusha T. His stage was filled with EDM lights and sound booms which really brought out the hype as he rapped some of his greatest hits. We left his performance a bit early though to return to our Airbnb and prep for the very last day.
Sunday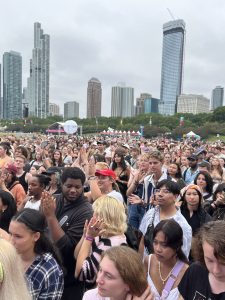 When we planned out our trip, Riley and I knew that Sunday would definitely be the most grueling day out of the four. Not only did we have to wake up early to be at the gates at noon after three exhausting days, but we also had the most artists we planned to see all on Sunday. I was super excited though because one of my favorite indie-pop artists of all time, Sarah Kinsley, was playing and we got front-row seats to her set! I was literally bawling my eyes out when she sang "The King" and I'm glad Riley had my phone to take all my videos for me because I was such a mess!
After I was done crying my eyes out, we watched Lil Yachty's performance from afar while we waited for Joey Badass, who is one of Riley's favorite artists. We managed to get the front row for his set and towards the end of the performance, he brought out Chance the Rapper! The crowd went absolutely crazy and while I was terrified with all the moshing, I survived it!
Immediately afterward, we raced to the next stage and made it just in time for the Backseat Lovers and we got to listen to them play all our favorite songs. And at last, for the final performance of the festival, we headed to Lana Del Rey just in time to hear her play some of her biggest hits like "Summertime Sadness" and "Young and Beautiful." We left before she ended her performance, but she truly marked a great finale to our four-day trip.
The very next day, Riley and I headed back to Iowa City. We were sore, bone-tired, and a little cranky, but we agreed that Lollapalooza was one of the coolest things either of us had ever done and we also agreed that if the line-up was top-tier again next year, we would definitely be going back!
If you're debating on spending the money to go to Lolla, I would definitely recommend it to any music lovers out there. Just make sure you're hydrated, eat well, follow your gut, and have as much fun as possible!