This is the story all about how my life got flipped, turned upside down. And I'd like to take a minute, just sit right there, and tell you how I became A FRESHIE AT THE UNIVERSITY OF IOWA!!!
I was a junior in high school! I had no idea how, what, where, when, why, or who I wanted to be when I grew up. The pressure of figuring out my whole life totally weighed down on me at the time. It made me quite anxious because honestly, I don't like change.
I had to reach a point though, where I would stop overthinking and start dreaming. THAT is where my college search began. I visited a couple campuses, Iowa actually being the first!
Here's how it went. When we first arrived my interest was immediately sparked by all of the people welcoming me and throwing free stuff at me. There were people ready to give tours, and even Herky was running around! Next, we did the routine-college-visit thing and went on a tour. We walked down the street, into the library, around the Pentacrest, and through the T. Anne Cleary Walkway. Then, we enjoyed lunch at one of the dining halls before going to a "major fair" in the Memorial Union. At the time I had no clue what I was going to major in, so seeing hundreds of potential majors and opportunities right in front of me in a huge room ignited a huge flame of inspiration in me!
After all of the routine campus visit events. My mom and I had time to walk around on our own and reflect on the experience. I come from a tiny town in northern Iowa, so right off the bat, I was awe-struck by Iowa City and the architecture on campus. I loved the beautiful river running through campus, and how vibrant and close downtown was. My grandfather attended the University of Iowa, and when I thought of my grandpa and stared up at the Old Capitol, I became so aware of the history that exists at Iowa. And it's the history of the university that made it come to life for me! Suddenly I knew that Iowa was so much bigger than me, and instead of that scaring me away, the opportunity to be a part of something big drew me in. I felt like this was a place that would truly allow me to grow!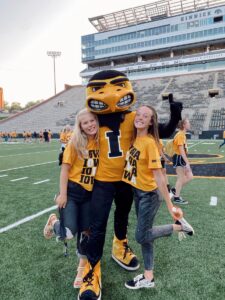 That's how I knew Iowa was for me. I always thought it was cheesy when people responded to questions about their college choice with "I just KNEW it was where I was meant to be" until I experienced it for myself. You want the place you choose for college to be somewhere that genuinely excites you and you can daydream yourself walking the streets as a student.
On the drive home from my visit, I couldn't wait to go back. Fast forward two years and I'm a freshman psychology major walking the same sidewalks that my grandpa did! I've loved every second of finding my people and exploring campus and downtown. Being a first-year is so fun, and I'm excited for what these next four years will bring!
GO HAWKS!