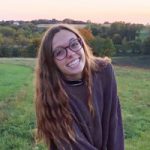 Hi everyone! My name is Grace and I grew up in Indianola, Iowa. I am a first-year student double majoring in Journalism and Mass Communications & Cinema!
In my free time, I enjoy reading, hanging out with my friends, trying new coffee shops, and video editing.
I decided to attend Iowa because it felt like home right when I stepped on campus. There are so many amazing opportunities here at the University, and I am so excited to further my passions and try new things!