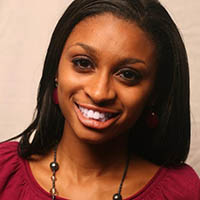 My name is Kyra Seay, some call me Bitesize. I am from Keokuk, Iowa. If you are wondering, where in the Hawkeye is that, it is at the very bottom right corner of Iowa on the Mississippi that borders both Illinois and Missouri. I am a freshman, class 2014. I plan to use a career in Business/International Business as a springboard to help me specialize my skills in a profitable way. I plan to take courses and travel to locations to progress my fluency in the other languages. I want to experience the richness of other cultures, travel to places that my family has only dreamt of seeing, and speak all of the languages on Rosetta's tongue. Most importantly, I want to continue my passion for community service and volunteerism to make a difference in a major issue that I am truly fervent about, such as, genocides, mass poverty, lack of education, and human trafficking.
Aside from some of my educational goals, I love to dance, eat, travel, and get involved. I dance all the time, anytime, and everywhere. Most of my friends would describe me as outgoing, fun to be around, and hilariously entertaining (seriously, I asked them). I am always excited to meet new people and create new relationships. So if you see me on the street, don't be shy! There really isn't anything that I am not excited about at the University of Iowa. I am looking forward to decking out ALL of my personal items in Herky's feather colors! (I am currently trying to find herky toilet paper).
My major is Prebusiness and Japanese and I live in a Mayflower suite. I hope to study abroad, join a couple great organizations, meet new b.f.f.l's , and really make the best out of my college experience. GO HAWKS!