Where do I even begin?!
Reading that title, you may be thinking "YOU CAME FROM SYDNEY", "WHY DID YOU COME ALL THE WAY FROM SYDNEY?!"
Let me introduce myself, hi my name is Nidhi Anugu, I am from Sydney Australia, and am studying in the pre-medicine track in the college of liberal arts at the University of Iowa.
Now let me tell you an interesting story; the story of how awaiting for a travel document made me realize I was ready to move to the University of Iowa!
Ever since I was in the sixth grade I knew I wanted to attend college in America. It was my dream. The next thing I know, I felt like I blinked and I was taking the SATs in 12th grade.
It was time for me to officially start packing… this is where ALL the nervousness hit me in one go. I remember thinking to myself, "What am I doing?" "Why am I choosing to move so far away from home?" I was so nervous that I would not make friends on campus.  Also, as I did not have family close by, I remember thinking 'What if I don't meet good people?' Because I knew my friends would be the closest people I would have to family, being here.
I then received an email about On Iowa, with all the activities leading up to the start of college and I felt a sense of 'You know what… all these activities look so fun, and I'm going to give everything a go'. Then came the toughest part, saying goodbye to my family, friends, and loved ones, but I knew, I would be back for Christmas in no time!
SO…
Here is where the story takes a turn; so I arrive at the airport in Sydney with suitcases packed, ready to go, BUT I then get turned around at the check-in because I still needed a travel document to be accepted.
That one week of waiting had changed me significantly. You may be thinking how? "How does a travel document change a person?"
Well, when I went back home from the airport, I remember my first thought was 'I just want to go'. I realized my mind was ready to leave, it was just all my fears and not wanting to leave my comfort zone that was clouding my feelings. I immediately turned to social media and would watch the events through the @uiowa social media page, and I realized I wanted to be here on campus so much, meet all these people and give everything a go.
It was that moment of realization that made me see I was ready for this move, and made me so excited to come to University.
I finally got approved, got onto the flight, and found myself after 24 hours of travel at Cedar Rapids airport. I immediately loved the atmosphere of the city, it was calm, peaceful, and the scenery from the airport to the University was beautiful.
Suddenly, I was moments away from campus and all the fears of "what will the people be like" came rushing in. But the moment I walked in and I opened the door to my floor everyone came out of their rooms and said hi to me with the brightest of smiles. That is a memory I will forever remember. I immediately called my mom and family at home saying "I LOVE IT HERE!" Everyone I have met so far has been welcoming, helpful, and genuinely kind people. I no longer felt that far away from home.
This leads me to answer the very first question: "Why did I come all the way from Sydney?" It was exactly for this; I wanted to get out of everything I knew and really explore the world, because I knew it would be the right growth for me and there is no better university to gain that experience from, than the University of Iowa. Not only has everyone been friendly, but people genuinely care for your well-being, by making sure you're okay and checking up on you. It's even the small things like people holding the door for you, or smiling as you walk by, it's these kind actions that make this university unique.
My generic answer of I chose the University of Iowa because of its incredible medical opportunities and the diversity of the campus changed to – I'm glad I chose the University of Iowa because of the people at the university, the professors, TA's, and the students.
I then woke up the very next day and had my first day of classes… and let me tell you it was so different from high school. More to come on how to handle studying and balancing a social life.
Signing Out,
Nidhi Anugu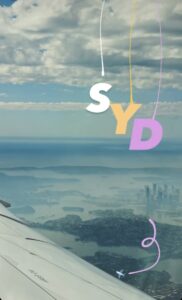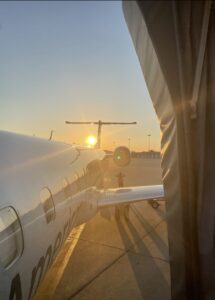 Leaving Sydney to arriving at Cedar Rapids Airport.