Hey everyone! I'm back again, but halfway across the country in my hometown of Chandler, Arizona!
I got to spend fall break in seventy-degree weather and sunshine, while Iowa steadily dropped in temperature and got some snow. I thoroughly enjoyed my week off and reconnected with my family and dogs, who I haven't seen since August!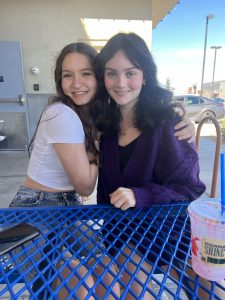 I also caught up with friends back at home! We went to our favorite coffee shop Dutch Bros – highly recommend it! Pictured is my friend Grace, who goes to a rival school Penn State.
I baked chocolate chip cookies because I miss having an oven, and prepared Thanksgiving Day food – brown sugar sweet potatoes are my favorite.
However, with finals looming around the corner, I spent some time working on projects, like my podcast project for rhetoric.
I watched Home Alone, slept in, read The Secret History, got Olive Garden with some friends, and went running outside! I cannot wait for winter break.
Good luck with finals, everyone!!