Hello future Hawkeyes,
I know summer has just begun, but we are already excited for class to start up again this fall and to welcome you all to the University of Iowa. Orientation is one of your first college experiences as you will get familiar with campus and pick out your first class schedule. As someone who is returning to work for Orientation Services for the second year and a recent graduate of the University of Iowa, I have a few tips on how to have a successful orientation program!
 1. Prepare in Advance
Upload your student ID picture at least 7 days prior to your orientation program for it to be ready for pick-up when you arrive on campus.
Make sure you know your Hawk ID (usually a name/letter combination) and password. An example of a HawkID for Joe Doe would be jdoe.
Finish part one of Success at Iowa online on your ICON account.
Take your placement tests such as the ALEKS Math Placement Test to ensure that your class registration goes smoothly.
Download the app HawkTools if you would like to access the 2-day orientation program agenda in advance.
2. Pack Accordingly
Wear comfortable clothes and shoes. Iowa summers get hot and humid but also know that some buildings may be cold due to air-conditioning. Plan for plenty of walking and bring a water bottle to stay hydrated.
Bring a swimsuit or work-out clothes if you would like to take part in our late-night activity at the Campus Recreation & Well Center (CRWC).
If you stay in the residence halls, you will be given sheets, bedspread, towels, a washcloth, and a pillow. However, feel free to bring your own pillows or blankets if that helps you sleep better.
Bring toiletries and shower shoes if you plan on showering in the residence halls.
3. Bring a Positive Mindset and Attitude
Orientation can be a nerve-racking time for a lot of students but having a positive attitude can make the experience more enjoyable. Be ready to be adaptable and take advantage of getting to know your peers!
Start thinking about your future and potential majors or careers that grab your attention. Think about your strengths, weaknesses, and relevant class, work, or volunteer experiences that have influenced you.
4. Share Your Experience with Others
Keep your family, guests, and friends in the loop and think about sharing your expectations for college with each other on the drive up.
Take photos and share them on social media. If you use the hashtag #UIOrientation, you will be entered in to win a Hawk Shop giftcard!
Make sure to follow our Facebook Page University of Iowa Orientation Services for updates and pictures throughout the summer: www.facebook.com/uiorientation
We are all looking forward to meeting you soon! I hope you found these tips helpful. As always, Go Hawks!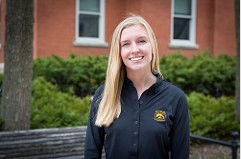 Samantha Westphal
Social Media Coordinator
UI Orientation Services