Hi, future Hawkeyes! We are just a few months away from the start of the 2016-2017 school year, which means it's time for you to take your first steps into student life at the University of Iowa with Orientation. Orientation is two days of participating in activities, gaining information, and ultimately registering for classes! As a student, I would like to share my 7 tips for making the most out of your Orientation experience:
Come prepared.
No one wants to come to Orientation unprepared. Here are a few things to check off your to-do list before Orientation:
Upload your Iowa One Card photo on MyUI so you're able to easily pick up your student ID at Orientation.
Don't forget to complete Part 1 of Success at Iowa on ICON.
Take any necessary Placement Tests to keep your academic advisers happy.
Bring your parents with you.
Sometimes your family can be just as curious as you are. Bring your family to Orientation to participate in the Family and Guest Program. During this program, your family will receive important information about being a Hawkeye student, and will have a chance to ask any questions they may have.
Get to know your new classmates and Hawkeye Guide.
Orientation is an awesome opportunity to meet your new classmates and connect with current Hawkeyes. To make the most of your experience, I encourage you to be open to meeting new people and taking a step outside of your comfort zone. Also, get to know your Hawkeye Guide during your program. Hawkeye Guides know what it is like to be a student on campus and are more than happy to share their experiences and knowledge with you. Plus, your Hawkeye Guide will be a familiar face on campus in August. Smile and wave if you see your guide after Orientation. They will love it, I promise!
Explore Campus if you have a chance.
If you have free time during your two days, walk around and explore the campus and Iowa City. Across the street from our campus, you will find the downtown area filled with a variety of restaurants, coffee shops, boutiques, and much more. Our city is beautiful and we love it!
Share your experience.
Want to show your friends and family how much fun you're having on campus? Social media is the perfect place to do this. Use the hashtag #UIOrientation on your posts. If you have the best social media post in your program, you will receive a gift card to the Iowa Hawk Shop from Orientation Services. Get ready to post!
Ask questions.
Transitioning to college can come with a lot of uncertainty and questions. Orientation is a great place to have some of these questions answered before classes begin.
Have fun!
Orientation is designed to be helpful and informative, but also really fun. Take advantage of the opportunities you'll have in Orientation to enjoy yourself and be silly. Start your University of Iowa experience off on a positive note!
Being able to call yourself a Hawkeye is awesome, and I hope Orientation will get you excited to be on campus in the fall!
Paige Compton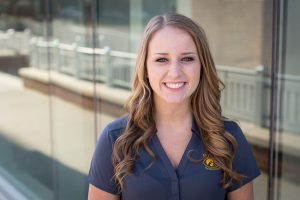 Social Media Coordinator, Orientation Services
The University of Iowa
Office of Admissions