Spotlight On: EPX Studio Animation and Studio Conference
As a curious person, I often go to events that may not be directly related to my career goals, but nonetheless enrich my life in some form or the other. Last weekend, I went to the EPX Studio Gaming and Animation Conference, an experience that opened my eyes to the world of anime, video games, and so much more. The conference featured the creators of Oscar award winning animations, as well animators for The Simpsons, The Powerpuff Girls, and the Amazon series Lost in Oz. While I didn't decide to become an artist after attending the conference, it was really cool to immerse myself in a community where everyone is passionate about the same things. I also gained a much greater appreciation for the work that goes into making video games and animated TV and movies, as someone who never plays video games and only watches cartoons if I'm hanging out with my friends in the basement lounge (well, I guess that happens a lot). One of the coolest talks, however, didn't come from an animator, but from Jack Wall, a musician who composed soundtracks for various video games including Myst III and the Call of Duty: Black Ops series. Listening to his life story, from being a civil engineering student to joining a band to his work now, was fascinating. I like hearing about life stories that don't have a direct course, ones where the person may not always know what they're doing but end up landing on their feet anyway. It's very motivational to hear about the lengths people go to get their foot in the door, which is really what every student is trying to do in their respective fields.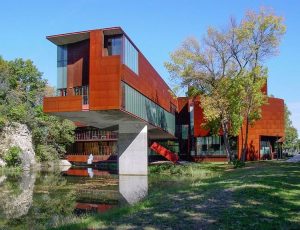 Not to mention, Art Building West and the Visual Art Building are two of the most hidden gems on campus for non-art majors. I stumbled across them the night before the conference, and man, are they beautiful, not just on the outside but on the inside as well. It was basically like getting a free pass into an art museum. Also, if you want to change up your study spot on campus, then sit on the chairs underneath Art Building West that look out onto the pond. In my one year of being here, there are very few views that can top that.
So, long story short: you may think that your first weekend of spring weather would be better spent going to a darty (day party),but maybe it would be better off enriching your mind. And sure, you probably have a lot of homework to do, but you'll almost always have a lot of homework to do, and it wouldn't hurt to take a break for an hour or two to learn about not only the details of a certain subject, but about a community that surrounds it as well, something that you can't experience by reading a textbook.