Friday, I can't believe you're here already.  At this time last week, I was celebrating my birthday in the office.  I also learned that I share a birthday with Iowa quarterback Ricky Stanzi.  Unfortunately, I missed Iowa's home opener against Eastern Illinois for another wedding in my hometown of Holstein.  Sadly, this was the first game I've missed since 2004; time to restart the streak.  While I was sad to miss the game, the weekend was awesome.  I was able to celebrate my birthday with my parents, friends from home, and the long weekend allowed for some time with friends back here in Iowa City.  I think the long weekend is also the reason why Friday came so quickly.
During this time of year I debate: Fall & Iowa Football >= Christmas morning?   Fall means I get to celebrate my birthday (presents); the excitement of not only Iowa Football, but also all of college football, NFL, and fantasy sports season; and also the birth of (what could be) history (Bowl Game?). Sound similar to Chirstmas?
It's 10am I'm already dreaming of the 2:36 kick-off time tomorrow at Historic Kinnick Stadium thanks to the I-Club breakfast this morning.  The Johnson County I-Club holds a breakfast every Friday morning at the Sheraton Hotel, downtown Iowa City.  The breakfast kicks off at an early 6:30am, but one is quickly awoken by the "boom" of the Iowa Hawkeye Marching Band.  Once seated, you're greeted by a high-five from Herky as the Iowa Dance Team, Spirit Squad, Drum Major, and Golden Girl make their way around the tables.
See more pictures from last Friday's breakfast here—> I-Club Breakfast
After breakfast we were introduced the the I-Club Board, a guest speaker, and finally remarks from our head coach, Kirk Ferentz!  This week was exciting because the guest speaker was our new Men's Basketball Head Coach, Fran McCaffery.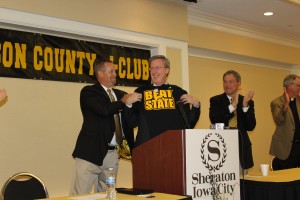 As always, door prizes were awarded.  While I had my "touchdown dance" prepared, I wasn't a winner.  I'm a team player though and was happy to see fellow counselor, Sheila win a Hawkeye football signed by Kirk following the event.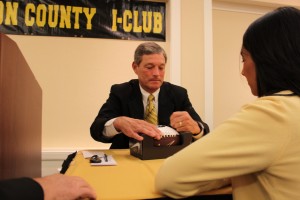 All in all, a great way to start an (early) Friday morning.  This will be great practice for tomorrow's 5am wake up call to enjoy some eggs, some pickled herring, and other tailgate goodies on the chilly, fall morning before a show-down between our rivals to the West, the Iowa State Cyclones.
ON IOWA, AND GO HAWKS…
Now Get READY. FOR THE. BOOOOOMMM….